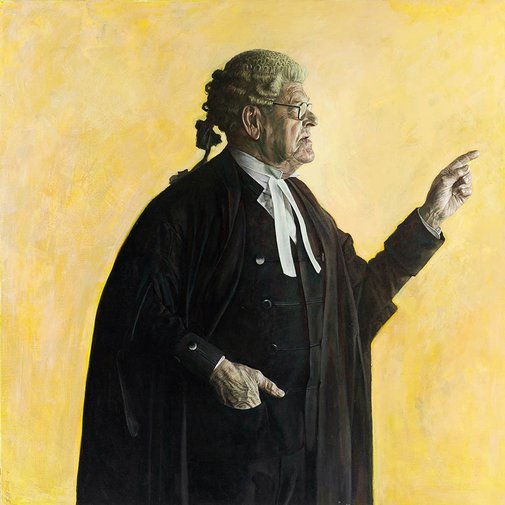 Jiawei Shen
Tom Hughes
Medium

oil on canvas

Read label text

Tom Hughes is a renowned Australian barrister and QC. A member of the RAAF during World War II, Hughes went on to become attorney-general for the Gorton government. His father, Geoffrey F Hughes, was a solicitor, flying ace and war hero. His brother Robert Hughes is the well-known art critic while his daughter, Lucy Turnbull, was recently the lord mayor of Sydney. 'At 80 he is still game for a fight in court,' says Jiawei Shen.

In 2003 Shen was commissioned to paint Hughes for the National Portrait Gallery of Australia. They had many sittings together for that painting, which was a more formal, traditional portrait than this one. Having become familiar with Hughes and having watched him in action in court, Shen was keen to paint him again and concentrate this time on his character. 'He's very strong and powerful in court.' The light background makes it a more modern-looking portrait than the previous one, says Shen.

Shen is a largely self-taught artist, learning his art during the Cultural Revolution in the 1960s and 70s. He did post-graduate studies at the Central Academy of Fine Arts in Beijing and became widely recognised in his homeland as a history painter. He won the Chinese National Art Prize five times during the 1980s. Since moving to Sydney in 1989, he has worked full time as a painter. In 1995 he won the Mary MacKillop Art Award. In 2003 he was commissioned by the Melbourne City Council to paint the lord mayor. He has been a finalist in the Archibald Prize on eight previous occasions and was runner-up in 1997.