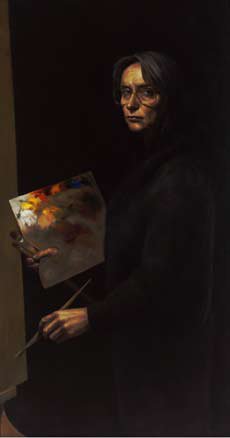 Pam Tippett
Self-portrait
Medium

oil on linen on panel

Read label text

When Pam Tippett delivered her self-portrait to the Art Gallery of New South Wales and discovered that it was Archibald entry number 652, she thought she had 'buckley's' chance of being selected. She had entered twice before without success, but this time was a case of third time lucky.

Tippett has painted many self-portraits over the years. 'Because I'm always there,' she says simply. She has been represented in the Doug Moran Portrait Prize twice and in the Portia Geach Memorial Award on five occasions. Then five years ago she left Sydney and moved to Goulburn and has been painting for her gallery, Australian Galleries, ever since. So for a while the portraits were put on the backburner. Last year she decided it was time to do another self-portrait and this was the result.

It was partly inspired by a Titian painting she saw while she was studying in Italy many years ago. 'It had this face and hand holding a glove but everything else was very dark. It was a very modern painting even though it was painted in the 1500s. I thought I'd like to do something like that so that was a bit of a starting point.'

Tippett says that she tends to paint 'fairly tight so I determined to do something looser and faster. This portrait isn't tight for me.' She laughs when it is suggested that she looks pretty serious. 'Anybody who stands and stares at themselves for hours on end looks serious. You look like death warmed up after a while.'

Born in Lismore in 1950, Tippett was unable to study art at school because of timetable clashes. She did a science degree and taught in Papua New Guinea. When her two-year contract was up she went to Europe, heard about an art school in Florence that sounded particularly appealing and studied there for three years from 1977. She has had solo exhibitions at Il Punto in Florence, the MacKay Harrison Gallery and Australian Galleries.