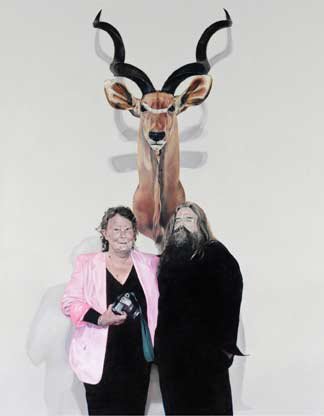 Michael Zavros
Portrait of Stephen Mori, with Win Schubert and my Greater Kudu
Medium

oil on canvas

Read label text

This is the first portrait Michael Zavros has painted and his first entry in the Archibald Prize so what better way to start than with your art dealers? Stephen Mori, the well-known director of the Mori Gallery in Sydney, is Zavros' Sydney dealer. Wyn Schubert in his dealer on the Gold Coast. Zavros displayed two hunting trophies, a kudu (an African antelope) and a springbok, which he bought at a local auction, as part of a solo show at the Institute of Modern Art in Brisbane last year. The show, Everything I wanted, featured miniatures of baroque and rococo interiors and paintings of horses. 'The trophy is incredibly beautiful but tragic,' says Zavros. 'It's bizarrely decadent in that the kudu died purely for decorative purposes.'

Zavros has always been interested in decoration and fashion. A few years ago he created a body of work inspired by images of male fashion, specifically Euro-centric images of the romanticised, dandified male figure, sourced from magazines, glossy advertising and fashion catalogues. The paintings played with the idea that 'clothes maketh the man'.

This image is a composite. Both Mori and Schubert were at the IMA opening last year. The reason Zavros has painted Schubert with a camera is that she is a keen photographer herself and a huge supporter of photography as an artform. 'She often has a camera with her,' says Zavros. 'And a lot of my work is drawn from photographs and film so I was playing with that element as well.' Zavros is a photorealist painter. 'I can't help but play with that aesthetic,' he says.

Born in Brisbane in 1974, where he is still based, Zavros graduated from the Queensland College of Arts in 1996. He has participated in numerous group and solo shows. In 2001 he was awarded an Australia Council grant to undertake a residency in the Visual Arts and Craft Board's Milan studio. In 2003 he was awarded a Cité Internaitonal des Arts residency in Paris by the University of Sydney and is spending three months this year at the Gunnery Studios in Sydney. His work is held in numerous private and public collections.