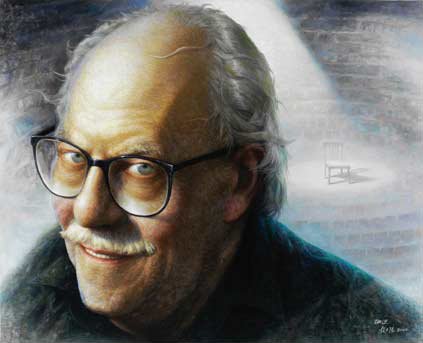 Dalu Zhao
Life on stage - John Clark
Medium

oil on canvas

Read label text

At the end of 2004, John Clark will retire after more than 30 years as the director of the National Institute of Dramatic Art in Sydney. Dalu Zhao felt that it was a milestone worth celebrating.

Born in Hobart, Clark was educated at the University of Tasmania and the University of California. He intended to become an archaeologist but found himself involved in theatre at the Bristol Old Vic in England and never looked back. His first production, Death of a salesman for the Hobart Repertory Theatre in 1958, resulted in job offers from the Melbourne Theatre Company, the ABC and NIDA. He chose NIDA, where he taught history and directed plays. In 1969 he was appointed director. In 1979, after the fall of the Old Tote Theatre, he put together the interim season at the Drama Theatre leading to the formation of the Sydney Theatre Company. He recently wrote The NIDA book, covering its history from 1959 and is a previous Archibald subject.

For last year's Archibald Prize, Zhao painted Professor Stephen FitzGerald, chairman of The Asia-Australia Institute at the University of NSW. The portrait won the People's Choice Award in Sydney and Melbourne.

Born in Beijing in 1953, Zhao immigrated to Australia in October 2001. He was a professor at the Capital Normal University in Beijing. His work was seen in the All-China teachers exhibition in 1987, The Great Wall exhibition in 1988 and the National Art Exhibition in 1992. He has had four solo shows in Rome, the most recent in 2000, and won the Campidolio Oro gold award in 1993 from the International Institute of Cultural Unity of Italy. In June 2001, he was the only Asian-Pacific artist represented in the first Men for Earth exhibition for the United Nations in Rome, where he was awarded a silver medal.