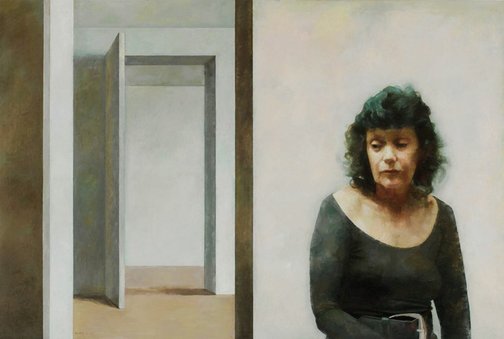 Adam Chang
Gene & the doorway
Medium

oil on canvas

Read label text

Dr Gene Sherman has a specialised knowledge of art history, art and literary theory, and French and English literature. She spent 17 years teaching, researching and lecturing at tertiary level as well as initiating and contributing to many publications. She is the director and proprietor of Sherman Galleries and a great patron of the arts. Together with her husband Brian Sherman, she supports activities within the local art community, sponsoring, among others, an annual award for sculpture and a scholarship for a Master of Arts Administration student at the College of Fine Arts, University of New South Wales. She also supports an annual Artbox Inc. Prize for emerging artists, a studio at Bundanon, and a contemporary Australian art research room at the Power Institute at The University of Sydney. An Australian born in South Africa, Dr Sherman lives in Sydney with her husband and has two adult children.

Adam Chang met Dr Sherman through his brother and has gradually become friends. He was keen to paint her portrait because of her generous support of artists and because he related to her as another migrant and therefore had certain shared experiences. Chang says that he painted her with a doorway because she is so open to life, to the world in general and to culture in particular, including her own Jewish culture.

Chang (Hong Jun Zhang) was born in Shanghai in 1960. He was educated at Shanghai University Fine Arts Academy, graduating in 1993. He began exhibiting in the early 1980s and had his first solo exhibition in 1985. He was subsequently represented at major national exhibitions throughout China. In 1989, he was selected to join the Association of Shanghai, becoming the young member in the history of the organization. In 1992 he was awarded the Shanghai Art Critic Prize. He moved to Australia in 1997 where he has twice been a finalist in the Doug Moran National Portrait Prize. In 1998 he was highly commended and in 2000, his painting won the People's Choice award. In 2001, he was one of 24 Australian artists represented in Portrait 2001, An Australian Odyssey exhibition, which toured nationally. He entered a portrait in the 2003 Archibald Prize, which was hung in the Salon Des Refuses. The same year his work was hung in the Mosman Art Prize. Recently he had a work in the Take a good look exhibition at Lake Macquarie City Art Gallery.