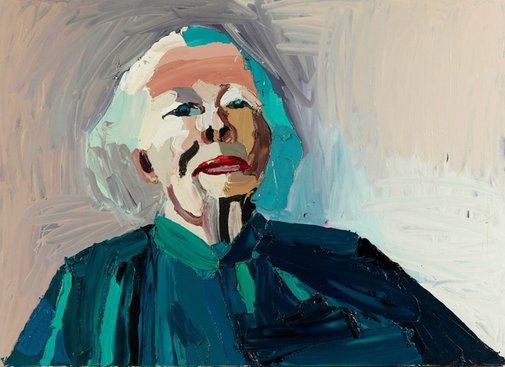 Ben Quilty
Beryl
Medium

oil on canvas

Read label text

The subject of Ben Quilty's portrait is Beryl Whiteley, mother of acclaimed Australian artist the late Brett Whiteley, and the founder and patron of the Brett Whiteley Travelling Art Scholarship.

Quilty first met her when he was awarded the Scholarship in 2002. With the prize money, he and his partner Kylie spent three months in Paris and then travelled all over Europe coming home via New York. "It was like an extraordinary six-month working holiday during which we gallery-hopped around Europe," says Quilty. During the trip away, he and Kylie corresponded regularly with Mrs Whiteley and a friendship formed.

"Last year, Kylie said it was time that I stopped painting such macho, heavy metal imagery and did something a little more feminine," says Quilty. This prompted him to think of painting Beryl for the Archibald. "Every time I meet her she gives us a little more insight into her life. She's a fascinating person and a great patron and supporter of the arts." Quilty went to her Sydney home and had tea and cake in a beautiful, sun-drenched room overlooking the harbour – a scene Brett Whiteley had drawn. He did several drawings then painted two portraits, letting Beryl choose which one she wanted him to enter in the Archibald.

Born in Sydney in 1973, Quilty did a Bachelor of Arts (Visual Arts) at the Sydney College of the Arts. Since winning the Brett Whiteley Travelling Scholarship he has worked full-time as an artist. He had a solo exhibition at the Scott Livesey Gallery in Melbourne in 2004 and another at the Maunsell Wickes Gallery in Sydney in 2005. Group exhibitions include the Metro 5 Art Prize in 2004, Autofetish at the Newcastle Regional Art Gallery in 2004 and the 2004 Wynne and Archibald Prizes.