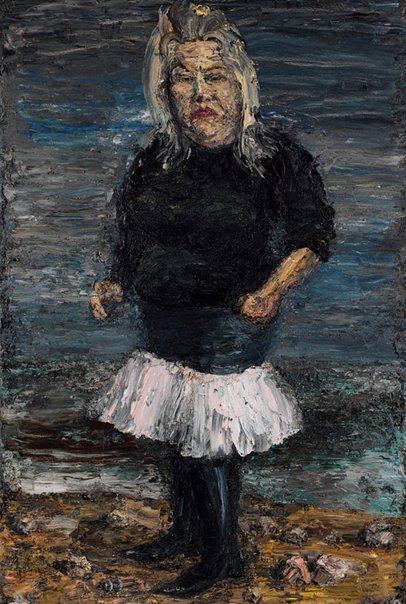 Paul Ryan
Archibald, Archibald, wherefore art thou Archibald?
Medium

oil on board

Read label text

Kerrie Lester has been an Archibald finalist 14 times but has never won the prize despite being highly commended twice – hence her 1998 Archibald entry Self-portrait as a bridesmaid and the title of this portrait by Paul Ryan. Whether Lester wins this year or not, it's a big year for her as the subject of two portraits (this one and another by Rodney Pople) and as a finalist herself with a portrait of Rebel Penfold Russell.

At last year's Archibald luncheon, Lester was one of the artists on stage and as he watched her talking, Ryan says he was struck by how fabulous she would be to paint. 'Surprisingly no-one, at that point, had painted her before, except herself.'

When he started making initial sketches and taking photographs of her, Lester was wearing jeans. Ryan asked if she would put something else on and she appeared in a denim skirt with a frilly bit on the bottom. 'She's not a very girly girl and I loved the girly frill as a contrast to the strong woman that she is,' says Ryan. He made the dress black, because Lester loves the colour.

Her slightly intimidating expression wasn't intentional, says Ryan, but it took him about two days to capture the likeness of the head and Lester had quite a scowl on her face. 'But I liked it and so I kept it. In a way she looks a bit like a jilted lover – which is fitting in that the Archibald hasn't turned up yet for her,' says Ryan.

'I wanted a simple setting and I wanted a full-length portrait, like my self-portrait of last year. I put her on a rocky beach and painted an empty spool at her feet, which is a reference to the way she weaves thread through her work.' Ryan finished the portrait eight months ago in order to leave time for the paint to dry.

Born in Auckland in 1964, Ryan moved to Australia as a child. Educated in Australia, New Zealand, America and England, he completed a Bachelor of Creative Arts at the University of Wollongong. He has had annual solo exhibitions since 1987 and has exhibited in many group shows including the Blake Prize, the Dobell Prize, the Sulman Prize and the Archibald Prize on three previous occasions. He won the Northern Exposure Prize and the Mt Kembla Prize in 2004 and the Thirroul Art Prize in 2002.