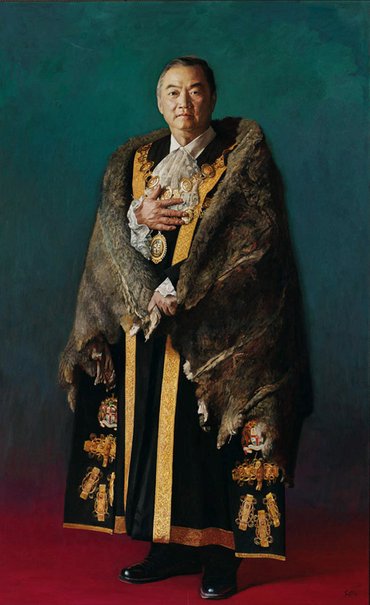 Jiawei Shen
John So, the Lord Mayor of Melbourne
Medium

oil on canvas

Read label text

Jiawei Shen has been represented in the Archibald Prize on nine previous occasions and was named runner-up in 1997. Unlike most of his portraits, this is an "official" one. Normally, although his sitters pose for him, their poses are quite natural, depictions of everyday life. In this portrait, John So not only wears the Lord Mayor's robe but is draped in a possum skin coat. The coat was an official gift from an Aboriginal elder in 2001, when he became the first Lord Mayor of Melbourne to be elected by popular vote. He was re-elected in 2004.
"The skin is an important symbol of the source of his political power," says Shen. "Robe and skin, along with the chain, give him a ceremonial status. His pose needed to be ceremonial too. His right hand is held in a symbolic gesture as if he is making a pledge. In his eyes we see confidence and in the corners of his mouth, stamina. So this is an official politician's portrait. For me it is a first attempt but hundreds of thousands of similar portraits have been made over the centuries." Shen's first portrait of John So was painted for Melbourne City Council as an official commission in 2003. This is a second portrait and is similar to the first one.
Shen believes what makes this portrait unique, is the use of three cultural symbols from three different continents brought together in harmony: the traditional European Lord Mayor's robe and chain, the Australian Aboriginal traditional possum skin coat, and a Chinese face. "It is an extremely new landscape of Australian political life in the 21st century," says Shen.
Born in Shanghai, Shen was a well-known artist in China before he moved to Australia in 1989. One of his earliest works was shown in the China: 5000 years exhibition at the Guggenheim Museum in New York in 1998. Since moving to Sydney in 1989 he has worked full-time as a painter. In 1995 he won the Mary MacKillop Art Award and received a medal from Pope John Paul II. Earlier this year he was commissioned by the National Portrait Gallery, Canberra to paint a portrait of Crown Princess Mary of Denmark. Other commissions include portraits of Tom Hughes in 2003 and the Lord Mayor of Sydney in 2004.