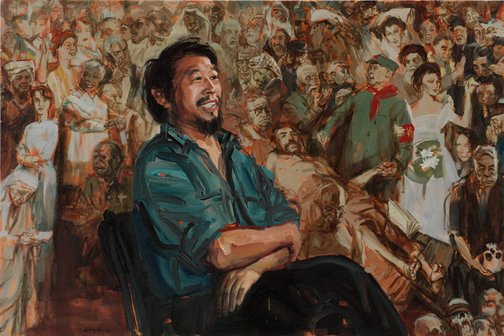 Xu Wang
Jiawei Shen
Medium

oil on canvas

Read label text

Chinese-born Jiawei Shen came to Australia in 1989. A celebrated artist in his homeland, he is now a highly regarded Australian portrait artist and was recently commissioned by the National Portrait Gallery in Canberra to paint Crown Princess Mary of Denmark during her recent royal tour to Australia. Shen is represented in this year's Archibald Prize with a portrait of John So, Lord Mayor of Melbourne – his tenth time as an Archibald finalist.

Like Shen, Xu Wang was born in China and immigrated to Australia in 1989. Wang had known of Shen whilst in China, but didn't meet him until arriving here. The two artists have since become very close friends given their similar age and shared experiences. They have very similar views about the world, art and politics and, says Wang, are always discussing Chinese politics together.

Wang is primarily a figurative and landscape artist but felt compelled to paint a portrait of his close friend. He has portrayed the artist in front of one of his favourite of Shen's paintings, The Third World, a large work featuring around 100 people. "We both believe that there is too much fighting, blood, poverty, dictatorship, violence and revolution in the Third World," says Wang, "We are hoping for progress towards peace, freedom and democracy."

Born in China in 1949, Wang is a graduate of the Central Institute of Nationalities Art department in Beijing. He arrived in Australia in 1989 and studied art at Meadowbank TAFE before gaining a Masters in Fine Art from the College of Fine Arts, University of NSW. He has had solo shows at Barry Stern Galleries in Sydney in 2003, 2004 and 2005 and has been represented in various group exhibitions.