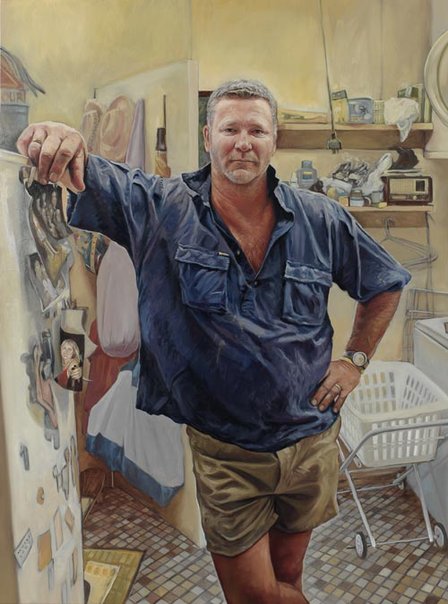 Michael Mucci
Winner: Packing Room Prize 2006
A working class man
Read label text

Artist Michael Mucci from Stanwell Park has been awarded the 2006 Packing Room Prize for his portrait of builder and television personality, Scott Cam.

Michael Mucci and Scott Cam went to school together and met up again at a recent reunion. When he decided to enter this year's Archibald he asked Scott would he agree to be painted as Michael thought he would be an interesting person to paint. "I've titled the painting A working class man because that is exactly how Scott likes to be known so that is exactly how I painted him," said Michael. Scott has been a carpenter since he was 17 years old. He loves the bush, camping, sport and the beach and started working on television eight years ago on Backyard Blitz.

Michael was born in Italy in 1962 and arrived in Sydney in 1968. He has been a commercial illustrator, animator and artist. He's been a finalist in the Blake Religious Art Prize and the Doug Moran Portrait Prize and has had solo exhibitions.

This portrait was exhibited, due to receiving the Packing Room Prize, but was not one of the 35 Archibald finalists as selected by the Gallery Trustees.

The Packing Room Prize provides the Gallery staff, who receive the entries and install the exhibition, the chance to vote for their favourite portrait entered into the competition.