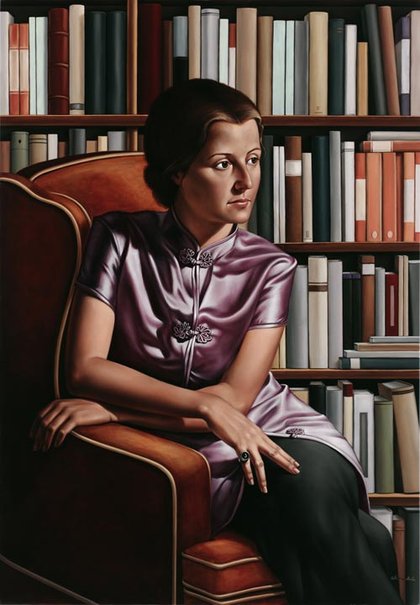 Catherine Abel
Portrait of Julia Leigh
Medium

oil on linen

Read label text

Julia Leigh received worldwide critical acclaim for her award-winning debut novel The Hunter, first published in Australia. It has since been published in the UK and the USA and translated into five languages.

"Although quite shy herself, I was attracted to Julia's bold ability to write the book from a man's perspective," says Catherine Abel. "In her features I could see resemblances to poetess Edith Sitwell and writers Sylvia Beach and Virginia Wolf, all of whom had a slightly androgenous demeanour. This was where the inspiration came from to give the portrait an old-fashioned feel."

"The leather armchair and the collection of books behind her were an obvious choice, particularly the old Penguin publications dating from the 1940s to recent times (Penguin being Julia's publisher), and a way of suggesting literary achievement over the past half century. The pose was more challenging. Julia communicated right from the beginning that she didn't want to be looking directly at the audience. As I didn't want to do the old cliché pose of the writer gazing into the distance as if reflecting on what she was going to write next, we had to work on capturing a stronger narrative.

"In my paintings I enjoy juxtaposing seemingly contradictory elements," adds Abel. "Therefore when Julia told me of her love of oriental design and fabrics, her Chinese jacket was the perfect choice to wear. The ring, which is the letter 'J' from an old Remington typewriter, is my own addition: a symbol of the creative ego that writers and artists alike must have in order to do what they do."

Born in North Queensland in 1966, Abel is a self-taught artist with only five years' experience as a painter. Her fine art career was put on hold for 15 years while she struggled with other endeavours as a single mother. She is now making up for lost time. In the last five years she has exhibited in Paris, San Francisco and Florence and has had sell-out exhibitions at Arthouse Gallery in Sydney the last two years. In 2005 she was accepted into the Salon des Refusés. This is her first time in the Archibald Prize.