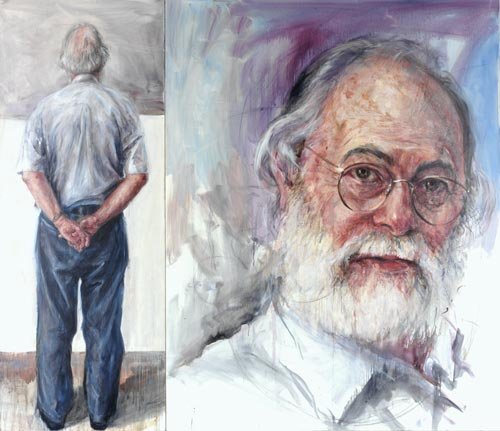 Danelle Bergstrom
Back to front - Kevin Connor
Medium

oil on linen

Read label text

Kevin Connor is a major Australian artist who has been exhibiting since 1952. He has won the Archibald Prize twice with portraits of Sir Frank Kitto in 1975 and sculptor Robert Klippel in 1977. Danelle Bergstrom first met Connor when she was a student at the Alexander Mackie College.

'He is a gentle man and a gentleman, quietly spoken with moderate unhurried gestures. In a funny way he's almost the antithesis of the expressive way he uses paint and the vigorous marks he makes on the canvas – though as Edmund [Capon] says in Connor's book, "there is no aggression in his vigorous often spectacular brushwork only feeling and expression".

'Time is an important aspect, and Kevin was very generous with his,' says Bergstrom. 'It allowed both of us to feel more relaxed as we got to know one another.' When Bergstrom first met with Connor in a cafe close to his studio she focused intently on his face. 'Painting a portrait gives you a licence to stare,' she says. 'During our many sittings in both his studio and mine, I would initially make dozens of sketches and a few smaller painting studies and also take snaps while we chatted. All the time I was obsessively searching, building an understanding of structure, movement and surface qualities while developing the concept.

'This portrait focuses on Kevin as an observer, one who studies the world. In the first panel, full length viewed from behind, he is anonymous, staring at what could be a window or the beginning of a painting or a white canvas. In the second panel you become the subject of his observation. I often use more than one canvas to create a time sequence'. Bergstrom used multiple images in portraits of Margaret Olley and Franco Belgiorno-Nettis hung in the Archibald Prize in 2003 and 2004 respectively.

Born in Sydney in 1957, Bergstrom studied at the Julian Ashton School of Art and then did a Bachelor of Art Education at the Alexander Mackie College of Advanced Education. She has exhibited in solo and group shows since 1980 including the Portia Geach Memorial Award, the Doug Moran Portrait Prize, the Kedumba Drawing Prize and the Archibald Prize. Her work is represented in collections in Australia and overseas, including the National Portrait Gallery of Australia.