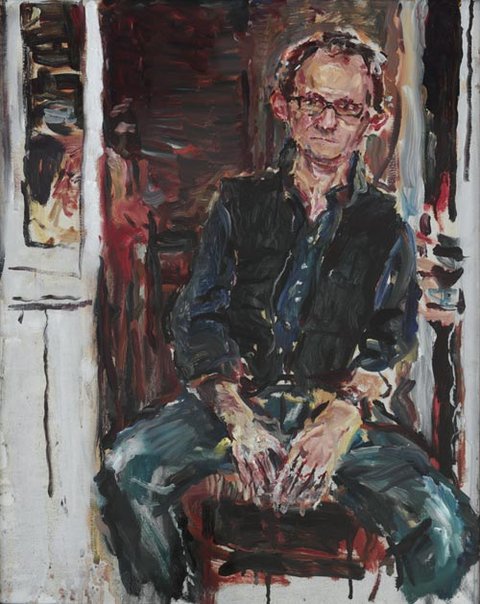 Tom Carment
Professor Muecke
Medium

oil on linen

Read label text

Stephen Muecke, the subject of Tom Carment's portrait, was the first professor of cultural studies to be appointed in Australia and has worked at the University of Technology, Sydney, for the past 20 years. Born in Adelaide, he completed his Masters at the Sorbonne in Paris and was a Fulbright Scholar in the USA. He has researched Aboriginal philosophy and Dreamtime stories from the West Kimberley and is the author of numerous books on Indigenous studies, including the prize-winning Reading the country. Awarded the Centenary Medal in 2002, he is a Fellow of the Australian Academy of Humanities.

Carment and Muecke met through their children and they have spent hours together watching their kids play soccer. "He is a good friend and he's got an interesting face," says Carment. "He gets very worried about the state of the world." Carment was sitting in Muecke's backyard watching his host on the phone inside when he first thought of painting him. "I did about eight painting sessions and painted five different portraits. This one was done in a two-and-a-half-hour session so it has the right kind of spontaneity but I did hours and hours of painting before that. During the sitting, his father walked into the background, sat down and had breakfast then walked off, so in the portrait there is the vague figure of his father in the room."

"My mum loved the Archibald. It always gave her a big thrill when I got in," says Carment. "Just before she died, she said, 'I hope you're entering that one of Stephen Muecke,' so being selected has a special meaning for me this year."

Born in Sydney in 1954, Carment studied at the Julian Ashton Art School. He has had 18 solo exhibitions since 1975. He has been hung in the Archibald Prize eight times, the Wynne five times and the Dobell and Sulman twice. He won the 2005 Mosman Art Prize (shared with Adam Cullen), had work in the 2005 Kedumba Drawing Award, and won the Waverley Art Prize three times. He was recently commissioned by the City of Melbourne to paint and draw the construction of Australia's "greenest" office building, CH2 in Little Collins Street. Also a writer, he has been published in The Good Weekend, The Bulletin and Heat magazines.