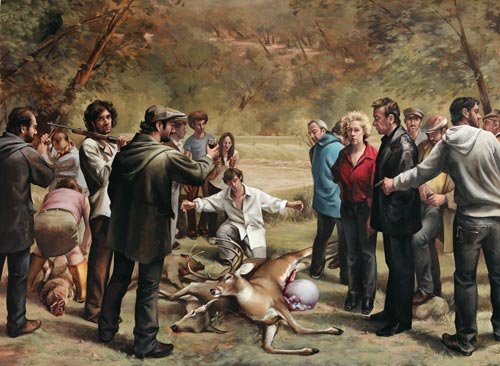 Peter Churcher
Bruce, Linde and me on the road to Guadelupe
Medium

oil on canvas

Read label text

In November 2004 Peter Churcher undertook a road trip through Spain with two close friends, Bruce Armstrong and his partner Linde Ivimey, both prominent Australian sculptors. 'On one particular day, Linde suggested a slight detour in order to visit the famous Catholic shrine of the Black Madonna in Guadelupe (she had been constructing little relics of her own with bones and cloth in the back while we were driving). After a long, winding drive through rough, wooded country we were finally approaching Guadelupe in the late afternoon. As we turned a bend in the road, we were suddenly greeted by a most extraordinary sight: a hunting party, recently returned, had their kill laid ceremoniously out on the grassy verge. We screeched to a halt, pulled over and seconds later were amongst the party.'

'The moment was redolent with powerful images: the disemboweled stag, eyes gleaming, steam rising from its entrails into the cool autumn air; the local butcher and his wife in gumboots perfunctorily hacking up the wild boar; the young Spanish men standing around with celebratory glasses of wine in hand. Thoughts of sacrifice, ritual, life and death were presenting themselves in a very Spanish way and were further augmented by the fact that moments later, we would be in one of the holiest sanctuaries of Catholicism surrounded by bleeding hearts, ritualised death and symbols of sacrifice.'

'This brief moment on the road to Guadelupe was a special, bonding experience for the three of us. We live for these moments as artists. As we got back into the car and headed up the hill towards the cathedral of Guadelupe, I told myself this experience would become a painting.'

Born in Queensland in 1964, Churcher is based in Melbourne. He completed a Bachelor of Music at Melbourne University and a Bachelor of Fine Art at Prahran School of Art and Design. He has been a finalist in the Archibald Prize on six previous occasions and in the Doug Moran Prize three times. He was Australia's official war artist in Afghanistan and the Persian Gulf in 2002. In 2004 he was appointed a board member of the Visual Arts Board of the Australia Council. He is represented in many major Australian collections including the National Portrait Gallery, the National Gallery of Australia and the Australian War Memorial.