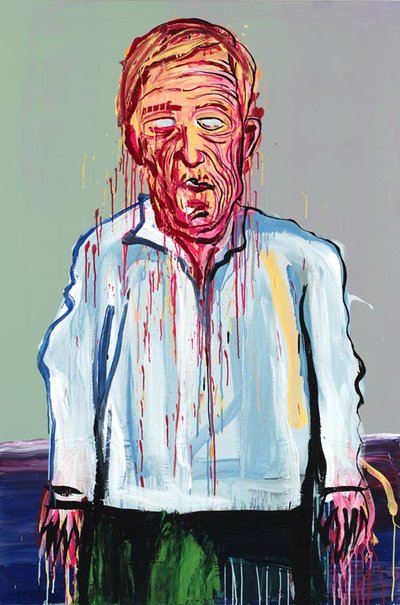 Adam Cullen
Edmund
Medium

acrylic on canvas

Read label text

Adam Cullen won the Archibald Prize in 2000 with a portrait of actor David Wenham and was runner-up in 1999 with a portrait of actor and visual artist Max Cullen. This is the eighth consecutive year that he has been a finalist. He is also the subject of a painting by Ben Quilty in the Archibald and a photograph by Murray van der Veer in the Photographic Portrait Prize.

This year, Cullen's subject is the director of the Art Gallery of New South Wales, Edmund Capon, a position he has held since 1978. Capon obtained his Master of Philosophy degree in Chinese art and archaeology from the London University School of Oriental and African Studies, and also studied 20th-century painting at the Courtauld Institute of Art, London. In 1994 he was made a member of the Order of Australia and in 2000 was awarded a Doctor of Letters from the University of New South Wales and a Chevalier of Arts and Letters from the French government.

'It started with me wondering why he was never on the wall,' says Cullen of the portrait. 'I thought I should ask him and he accepted the offer.' Capon has, in fact, been painted by various artists including Judy Cassab, Salvatore Zofrea, Graham Fransella and Jiawei Shen – though none of these portraits have been hung in the Archibald. 'One look at me and the trustees say "out" without hesitation,' quips Capon.

Cullen says he started entering the Archibald 'as a gag – and I thought it was a good thing to do to push the boundaries of the prize. In the same way I thought it was good to paint Edmund. Apart from that I really like him. He has a fantastic presence and a fantastic head. He's quite an amazing man.'

Born in Sydney in 1965, Cullen lives in the Blue Mountains. He has shown work in over 200 group and solo exhibitions in Australia and overseas. He represented Australia in the Sao Paulo Biennale of Contemporary Art in Brazil in 2002 and earlier this year had a major 10-year retrospective of works on paper at Penrith Regional Art Gallery. His work is held in major public and private collections around Australia including all the state galleries and numerous regional galleries.