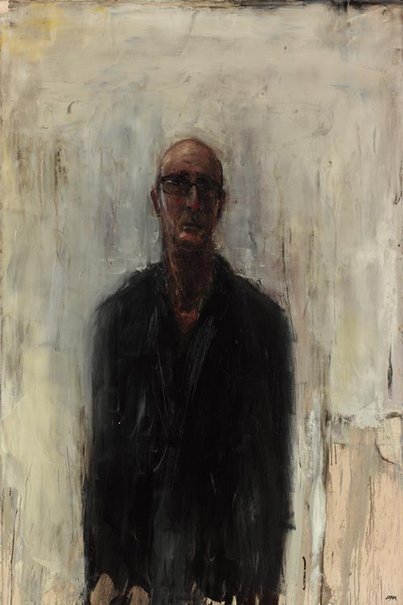 Geoffrey Dyer
The abstractionist, Graham Fransella
Medium

oil on canvas

Read label text

Geoffrey Dyer won the 2003 Archibald Prize with a portrait of author Richard Flanagan. Predominantly a landscape artist, Dyer paints a portrait each year for the Archibald and likes to choose fellow Tasmanians. This is the first year that he has painted a non-Tasmanian and also the first time that he has chosen another visual artist as his subject.

Born in England, Melbourne-based Graham Fransella is a painter and printmaker. "He is an abstractionist who uses strange figurative outlines against landscapes evoked through dense, textural, linear, coloured surfaces," says Dyer. What may at first appear to be primitive through Fransella's use of bold outline, becomes symbolic and multi-layered in its meaning with a blurring between landscape and figure. In the introduction to his book Graham Fransella: figures and landscapes, Edmund Capon, director of the Art Gallery of New South Wales, writes: "What his paintings do have is an echoing sense of absence; of a figure that once was there but is no more and yet its mysterious presence still lurks on the surface of the canvas."

Fransella and Dyer exhibit with the same gallery in Melbourne, and since meeting there have become friends. "I find him an interesting man and I respect him as a painter," says Dyer. This portrait was painted in one day in Fransella's studio.

"I just started off in the morning and thought I'd see how I go," says Dyer. "By eight o'clock that evening I was a bit of a mess but there he was. The following morning I looked at the portrait again and wondered, 'Have I got him?' A friend came around and gave me the thumbs up." As for painting a fellow artist, Dyer says: "I think you can take more liberties because painters understand the language."

Born in Hobart in 1947, Dyer studied at the Tasmanian School of Art. He has been in the Archibald Prize on eight previous occasions. He has also been in the Wynne Prize ten times and was a finalist in the 1997 Sulman Prize.