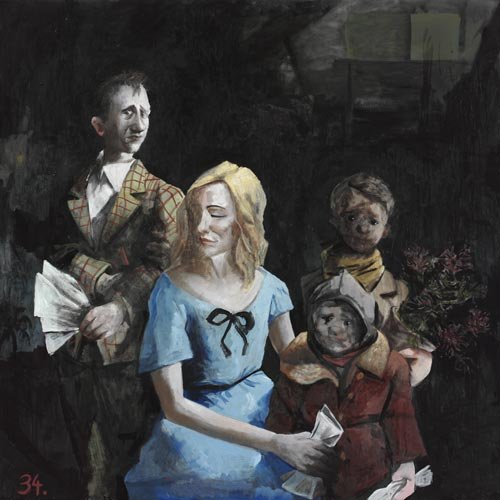 McLean Edwards
Cate Blanchett and family
Medium

oil on canvas

Read label text

Cate Blanchett was approached by Harpers Bazaar magazine with the idea of a cover story on her being painted for the Archibald Prize. Asked to pick an artist she would like to sit for, Blanchett chose McLean Edwards. "Cate collects my work," says Edwards, "and I had also drawn the invitation for her husband Andrew Upton's 40th birthday. We met up and had a pretty intense sitting because there are so many images of the woman out there that I felt I needed to start from scratch."

Having spent time with Blanchett and Upton, Edwards decided that Upton had to be in the portrait. "As soon as one lays eyes on him, you know as an artist that you don't want to pass up the opportunity to paint him. But more than that, they are a team. You meet some husbands and wives and realise that they have a creative bond as well as a familial one and it was clear to me that Cate and Andrew rely on each other profoundly. They are an awesome functioning little unit. I'm also in awe of Andrew's capability as a writer." From there, Edwards decided the portrait should feature their two sons as well.

Edwards says he observed the children at their home rather than had them sit for him. "Cate pulled out the poster paints and set the kids up on the kitchen table and I painted with them and had cookies and milk. It was really good fun." When Blanchett insisted the boys put on jumpers to go outside, Edwards was reminded of the way his mother always used to make him "rug up", which is why he painted them in thick jackets.

Born in Darwin in 1972, Edwards studied at the Canberra School of Art and had his first solo exhibition in Canberra in 1989 whilst still in year 12. Known for his humorous take on figurative painting and bold use of colour, he has had over 20 solo shows and been part of numerous group shows including the Sulman Prize in 2001. He was represented in the 2004 Archibald Prize with a portrait of his art dealer Martin Browne. The same year he was also the subject of a portrait by David Bromley.