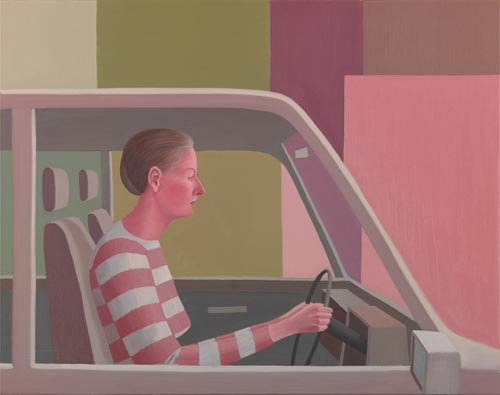 Prudence Flint
Four wheel drive #2
Medium

oil on linen

Read label text

Prudence Flint won the 2004 Doug Moran National Portrait Prize with a portrait of herself writing on a laptop. The work was part of a series of paintings of women caught in moments of introspection.

This self-portrait features the artist at the wheel of a car. In an artist's statement, Flint says: "Four wheel drive #2 captures the feeling of going somewhere at speed with my hands on the wheel – though I often dream of driving a car fast, then finding myself in the back seat, unable to reach the brakes."

"The four wheel drive is a symbol of relentlessly pushing forward … this complete self regard … the individual's urge to power … this shield like war armour. I like the implied movement, the containment and mechanical framing of the car as a kind of cocoon, but a dangerous one."

"There is a painting tradition of the driver, for example John Brack's work of a family in a car. I saw that painting when I was very young at the National Gallery of Victoria, and more recently a reproduction of Alex Katz's woman in the car."

Born in Melbourne in 1962, Flint studied painting at the Victorian College of the Arts, and has been exhibiting since 1990. She is currently studying for her Masters in painting at Monash University. Flint has had several solo exhibitions at both artist-run spaces and commercial galleries and has been invited into numerous curated exhibitions in Melbourne, Sydney and Queensland, including Lovers at Heide Museum of Modern Art, Aesthetic illusions at Arts Victoria and Heat at Noosa Regional Gallery. Invitational prize exhibitions include: Geelong Contemporary Art Prize; National Works on Paper at MPRG; the Darebin-La Trobe Acquisitive Art Prize; the Arthur Guy Memorial Painting Prize; the Conrad Jupiters Art Prize and the Portia Geach Memorial Award. In 2004 she received a grant from the City of Melbourne for The library series. Paintings of Flint's have been acquired by the City of Port Phillip, Artbank, BHP Billiton and private collections. Articles and reproductions of her work have appeared in publications such as Art Monthly, Australian Art Collector and Art & Australia.