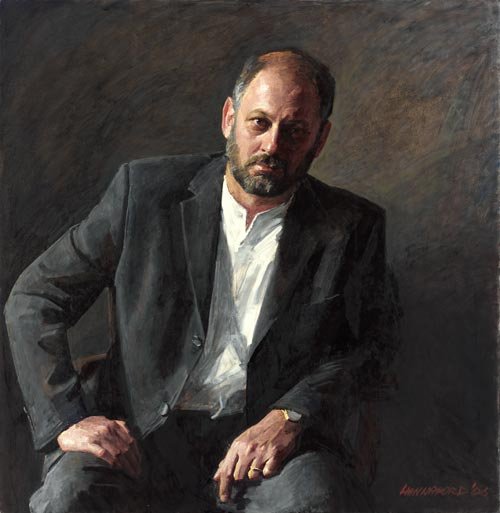 Robert Hannaford
Tim Flannery
Medium

oil on canvas

Read label text

Palaeontologist Tim Flannery is a well-known Australia scientist and a best-selling author. He is currently director of the South Australian Museum in Adelaide. From 1984 to 1999 he was principal research scientist in mammalogy at the Australian Museum in Sydney and in 1998 he was a visiting chair in Australian studies at Harvard University, Boston.

Flannery speaks frequently on ecological issues, particularly global warming, and has been an adviser on environmental issues to the Australian Federal Government. His latest book The weather makers: the history and future impact of climate change has been dubbed "a call to arms." He is renowned for his research into the mammals of Australasia and has discovered around 30 new species including two tree-kangaroos. He has published several books on the subject including book Tree-kangaroos: a curious natural history, which won the Whitley Medal in 1997. Other books include The future eaters, which he turned into a series for ABC-TV. He is currently working with John Doyle on a new television series called Two in a tinnie, which follows the pair as they unravel the secrets of Australia's most important river system.

Robert Hannaford knows Flannery well. "I respect his views very much and I asked him to sit for me for the Archibald." Hannaford always paints from life. For this portrait he had around a dozen sittings. "The particular challenge of this portrait was its size," says Hannaford. "My studio is not all that big and so, working from life, getting the proportions right was quite a challenge. I often had to take it out into my kitchen, which is larger, to check it. Tim is a very good sitter. I tried to get the intensity of the man – he's got an amazing vital energy. That's why I chose that pose with him sitting forward, almost coming out of the picture."

Born in 1944, Hannaford lives and works in Riverton, South Australia. Acclaimed for his portraits, he also paints landscapes and nudes and is a sculptor. His sculpture of Sir Donald Bradman stands outside the Adelaide Oval. He won the Doug Moran Portrait Prize in 1990 and the Fleurieu Landscape Prize in 1995. He has been an Archibald finalist on 15 previous occasions winning the People's Choice Award three times.