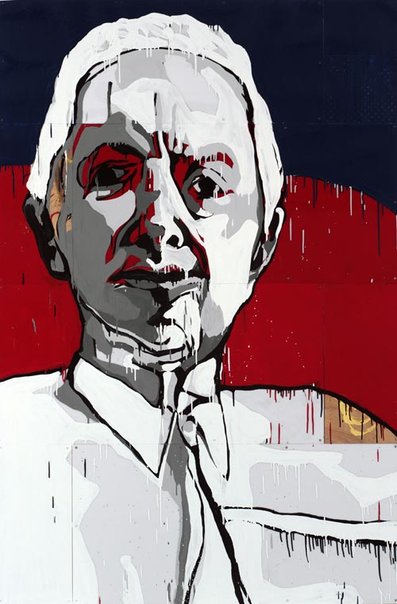 Jasper Knight
Sir Harold Knight KBE DSC
Medium

enamel, perspex and masonite on board

Read label text

This portrait of Jasper Knight's grandfather was commissioned by his grandmother. "I thought that he would make a fantastic Archibald entry both because of his eminent career, and because it is challenging to paint a public figure in my style," says Knight. "The traditional, formal approach would be a more finished, layered oil treatment, but I knew that if I compromised my style I would end up with a work that was the wrong scale."

During World War II, Sir Harold Knight served as a lieutenant in both the army and navy, and was awarded the Distinguished Service Cross. He joined the Commonwealth Bank, which became the Reserve Bank of Australia, in 1936. Knight served as bank governor from 1975–82. After retirement, he served on the boards of major public companies, including as chairman of Mercantile Mutual and the Industrial Bank of Japan. He was made a Knight of the British Empire in 1980.

"This work is a combination of red and white perspex, plywood and various masonite sheets. My work has always straddled painting and the constructed object. In the past, my materials have added to the narrative content, or sometimes to the context, of the depicted subject matter. My recent work has explored this relationship between material and subject, between constructed object and painted surface. I tried to achieve this here by using high gloss white enamel and the white perspex to transform his formal shirt into a more dynamic surface. There is also a playful use of reds and whites in the face and background. Finally, the top of the work is grounded with a bold royal blue to bring out the face."

Born in Sydney, 1978, Knight graduated with a BA (Electronic and Temporal Art) from Sydney College of the Arts, 1999 and with a MA (Painting and Drawing) from the College of Fine Arts, University of NSW, 2003, and has exhibited regularly since. Awards include the Freedman Foundation Travelling Scholarship and Art on the Rocks Prize (emerging artist). He has also been a finalist in the Archibald Prize, the Wynne Prize, the Brett Whiteley Travelling Scholarship, the Mosman Art Prize, the Helen Lempriere Travelling Art Scholarship in 2003 and 2004, the ABN-AMRO emerging artist prize in 2004 and the Blake Prize for Religious Art in 2003.