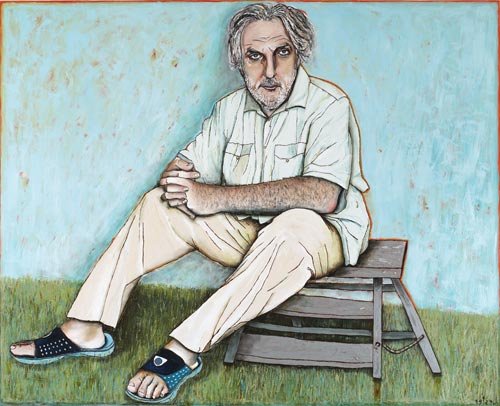 Kerrie Lester
Phillip Noyce - in the picture
Medium

oil and thread on canvas

Read label text

Born in the Australian town of Griffith in NSW, Phillip Noyce is an internationally renowned film director whose many credits include Newsfront (which he also co-wrote), Rabbit proof fence, Heatwave, Dead calm, Patriot games, Clear and present danger, The bone collector and The quiet American. His television credits include the acclaimed Australian miniseries The dismissal and The Cowra breakout.

'There is something in Phillip Noyce's mesmerising face that denotes him a master storyteller,' says Kerrie Lester. 'My first introduction to him came during the Vietnam War when like so many young school students I would visit the Sydney Domain on a Sunday to listen to the ratbags, the rabble raisers and just about anyone else prepared to jump up on a soap box. Phillip Noyce brought his own ladder and was a regular and vocal opponent of Australia's participation in that crazy war. He was passionate, forceful and colourful and these characteristics have also become trademarks of his many feature films.'

'It seemed natural for me to place the film director back in the Domain with its ambiguous background still haunted by the eccentrics and characters so at odds with the world. The orange edge provides an element of faking as though he is seated in his director's chair on a film set: a palace of dreams that depends so much on the vision of the master storyteller.'

Born in Sydney in 1953, Lester studied at the National Art School and Alexander Mackie College. She has had annual solo exhibitions since 1976 and has been part of numerous group shows including the Archibald Prize on 15 previous occasions, the Portia Geach Memorial Portraiture Prize six times, the Doug Moran Portrait Prize, and the Sulman and Wynne Prizes.