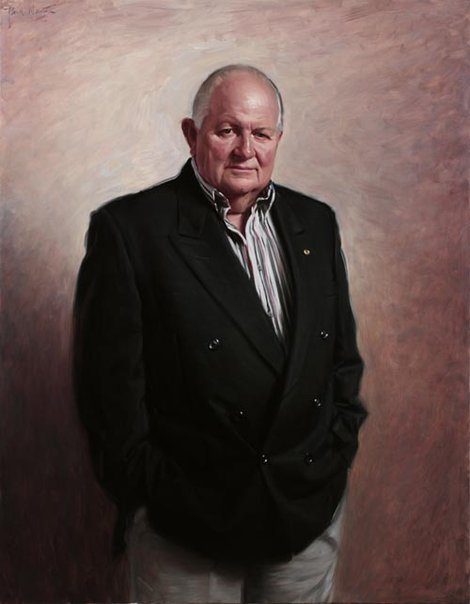 Paul Newton
Portrait of Pat Corrigan
Medium

oil on canvas

Read label text

A hugely successful businessman with a 30-year career in the shipping industry specialising in VIP freight forwarding, Pat Corrigan AM is a great lover of the visual arts and jazz music and is one of Australia's leading philanthropists. He collects contemporary art with a particular emphasis on photography and has sponsored art and music awards. He is currently a director of the Gold Coast Arts Centre and chairman of the Gold Coast Regional Gallery.

Paul Newton has known Corrigan for a number of years, bumping into him at various art shows. 'I thought he'd make a great subject for the Archibald but it's taken us a couple of years to make it happen.' Newton went to Corrigan's home on the Gold Coast for sittings and got to see some of his art collection: 'quite an inspiration,' he says.

'I did some paintings of him from life and took a lot of photographs which I took back with me to my studio. I did two versions of the portrait. In the first, I had him looking squarely at the viewer with some of his artwork collection, including a Robert Klippel sculpture, behind him.' Deciding it looked too busy, Newton painted out the background and then felt it lacked impact so he ditched the canvas and started again. He began again with the head, which he finished in a day – quick for him, he says. This time the portrait flowed. 'I decided not to include artwork behind him,' says Newton. 'He's a strong enough character and doesn't need that to support him.'

Born in Sydney in 1961, Newton is a much-commissioned portrait artist. After completing a science degree at the University of Sydney, he did a Diploma of Art at the Julian Ashton Art School. This is the seventh time he has been selected as an Archibald finalist.