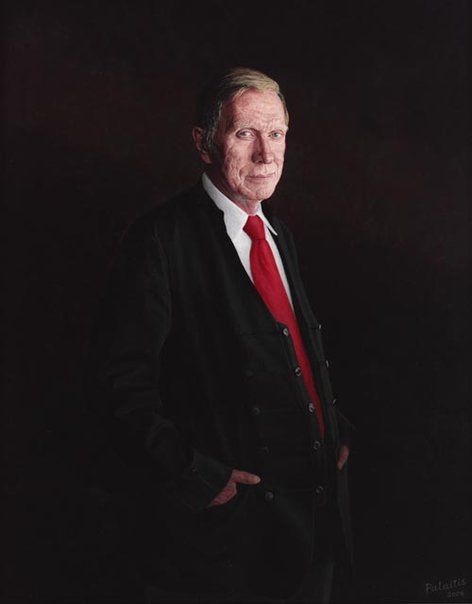 Josonia Palaitis
Justice Michael Kirby
Medium

oil on linen

Read label text

Josonia Palaitis has known High Court judge Justice Michael Kirby for over 20 years. In fact, she painted him for the 1983 Archibald Prize though the portrait was not selected as a finalist. About a year ago she received a letter from Justice Kirby, who had seen her work at the National Portrait Gallery and wondered what had become of that 1983 portrait. They got talking and Palaitis suggested they have another go at the Archibald.

The sittings were conducted at Kirby's Sydney chambers. "We did lots of talking at first and I would take photos each time, refining various ideas, and afterwards make notes," says Palaitis. "The starting point for the composition is Goya's Portrait of Ramón Satué (the Spanish judge) in the Rijksmuseum in Amsterdam, which Michael really loves. Part of my research involved drawing out from Michael what it is about that portrait that fascinates him."

This portrait took Palaitis seven months from the first sitting to completion. She usually includes lot of intricate detail in portraits. "This one was different and it was a challenge for me not to have so much detail, apart from the face," she says. "Working in black and dark paints is always a technical challenge – I have used several layers of pigment underneath. I really took my time with this portrait. It was a deep and engaging process with a lot of meditation involved."

Born in Sydney in 1949 (both her parents were illustrators), Palaitis obtained a diploma from the National Art School in East Sydney in 1972 and a BA from City Art Institute. She has been a finalist in the Archibald Prize on five previous occasions and won the 1995 People's Choice for her portrait of Bill Leak. She won the 1994 Doug Moran National Portrait Prize with a portrait of her father and was commended in 2002 for a portrait of her mother. In 2000 she was commissioned by the National Portrait Gallery to paint prime minister John Howard and his wife Janette, and also was chosen to paint the Childers Memorial Portrait of the 15 backpackers who perished in the hostel fire in 2000. Her work is held in many collections including the National Portrait Gallery, the National Library of Australia, the Tweed River Art Gallery and the Catholic Archdiocese Collection.