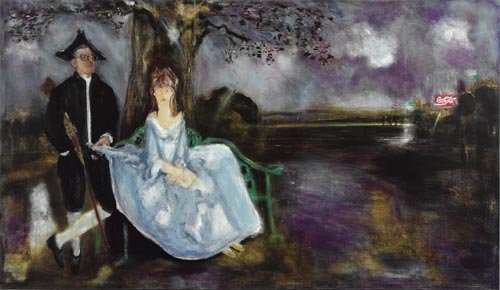 Rodney Pople
Artist and curator, after Gainsborough
Medium

oil and watercolour on linen

Read label text

Artist and curator is a portrait of the artist Rodney Pople and Sydney-based curator Felicity Fenner. The painting takes its inspiration from Gainsborough's famous portrayal of Mr and Mrs Andrews (c1750).

"I chose Gainsborough because his portraits reveal much about the sitters, and, often more interestingly, about the artist's perception of them," says Pople. "Gainsborough's portraits are invested with vitality and insight, sometimes underscored by a sardonic wit."

Rather than the sweeping green fields of Suffolk, the depicted landscape over which Pople and Fenner preside is reminiscent of Sydney at night, specifically the view from their Darlinghurst kitchen. "I enjoy the metaphorical significance of rendering the urban-scape in darkness, and the fact that it's in stark contrast with the sunny optimism of Gainsborough's." While formal and compositional aspects of the painting echo the original, anecdotal details locate it in the here and now. "The Kings Cross Coca-Cola sign is Sydney's most famous neon icon and symbolises the Americanisation of Australian culture," says Pople. "The Gainsborough painting, conversely, is also very well known, yet embodies our culture's strong British heritage.

"Mr and Mrs Andrews is one of the most popular paintings in the National Gallery of London. In its theatrical formality, my painting pays homage to Gainsborough while making irreverent reference to Sydney's obsessions with real estate and keeping up appearances."

Artist and curator is the third in a series of portraits of artists in which Pople depicts the sitter/s in poses appropriated from 18th-century European portrait paintings. The first two – Self-portrait, after Henry Raeburn and Kerrie Lester, after Goya – were exhibited in Archibald Prize in 2004 and 2005.

Born in Launceston in 1952, Pople gained a Diploma of Fine Arts (Photography) at the Tasmanian School of Art and undertook postgraduate studies in sculpture at the Slade School of Art in London and the New York Studio School. He has been exhibiting annually since 1978 with regular solo shows in Sydney and Melbourne. This is the fifth time that Pople's work has been represented in the Archibald Prize.