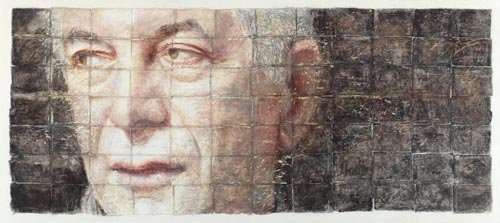 Jenny Sages
Hossein Valamanesh
Medium

pigment, oil and encaustic on paper on board

Read label text

Born in Iran, Hossein Valamanesh immigrated to Australia in 1973. He now lives and works in Adelaide and is one of Australia's leading contemporary artists.

He is represented in this year's Photographic Portrait Prize with a self-portrait titled Nesting.

"The poetic vision of Hossein Valamanesh covers a range of interests from tiny highly focused miniatures made of seeds, leaves and thorns to a wonderfully complicated monument made from sandstone, bronze, glass and sound, commemorating the Great Irish Famine," says Jenny Sages. "The miniatures, with thorns that still bear the scent of roses, are heartbreakingly evocative of a time already lost, leaving only the fragile memory that appears between sleep and waking. The monument, An gorta mor – a collaboration with his wife Angela Valamanesh – is a moving meditation on loss and new beginnings.

"My respect for Hossein's work, his dignity and integrity have gone into the portrait," says Sages.

"The grid is composed of khadi boards (Indian paper handmade from recycled rags), each with a life of its own. I covered each one of them with encaustic wax and then pasted them down on to an encaustic covered board. They are a nod to Hossein's practice of pasting natural elements with wax. I loved the journey; it has taught me many new ways of encompassing what I have learned into my ongoing work."

Born in Shanghai, Sages came to Australia in 1948. She studied at East Sydney Technical College, the Franklin School of Art in New York, then with John Olsen and Mary White. After freelancing as an illustrator for nearly 30 years, she has painted full time since 1985 and has exhibited in numerous solo and group shows. She has been a finalist in the Archibald Prize 14 times since 1990 and has been highly commended five times. Last year she won the Archibald People's Choice in Melbourne. Sages has won numerous art prizes including the 2005 Wynne Prize, the Portia Geach Memorial Award for portraiture in 1992 and 1994 and the Mosman Art Prize in 1994. Her work is represented in numerous public and private collections including the National Portrait Gallery and the Art Gallery of New South Wales.