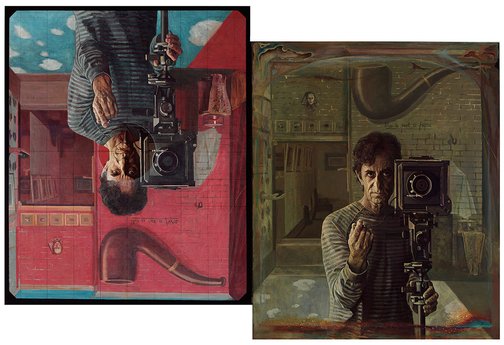 Jiawei Shen
This is not a photo
Medium

oil on canvas

Read label text

This is a portrait of Greg Weight, one of Australia's leading photographers. Weight was an original member of the artist group known as the Yellow House, which used a house in Macleay Street, Sydney as an avant-garde venue in 1970–71. Weight's early photos record interior scenes from the famous venue. 'Greg's photographic career, the Yellow House's history, and the wall painting in the Yellow House, which is a copy of Magritte's masterpiece This is not a pipe … are all elements which inspired me in making this portrait,' says Jiawei Shen.

'On the right panel, there is a mock daguerreotype (the earliest form of photograph from the 1830s and 40s). A daguerreotype image should be shown as a mirror image but this suggests Greg taking a self-portrait using a mirror so the image becomes normal. We see Greg using a modern camera in the Magritte room of the 1970s Yellow House to get a 1840s daguerreotype photo. On the left panel, which is shown as the image through Greg's camera lens, everything is upside down. Magritte's sky painting on the ground is now on top so the upside down body looks more surreal. This work uses Magritte's masterpiece, the famous pipe, to make an affectionate joke about modern art itself.'

'Since photography was born in 1830s, people have constantly talked about the death of realistic painting. You could take the point of view that modern art is a positive response to photography's challenge. But we are still painting, even still painting realistic portraits, and focusing on the Archibald Prize. So this is not a photo. This is just a real painting.'

Born in Shanghai in 1948, Shen was a well-known artist in China, where he won the National Art Exhibition Prize five times. He immigrated to Australia in 1989. This is his 11th time as an Archibald finalist. In 1995 he won the Mary MacKillop Art Award and received a medal from Pope John Paul II. He was commissioned by the Australian government to paint an official portrait of Crown Princess Mary of Denmark. Other portrait commissions include Melbourne's lord mayor John So, Tom Hughes QC and the lord mayor of Sydney Lucy Turnbull.