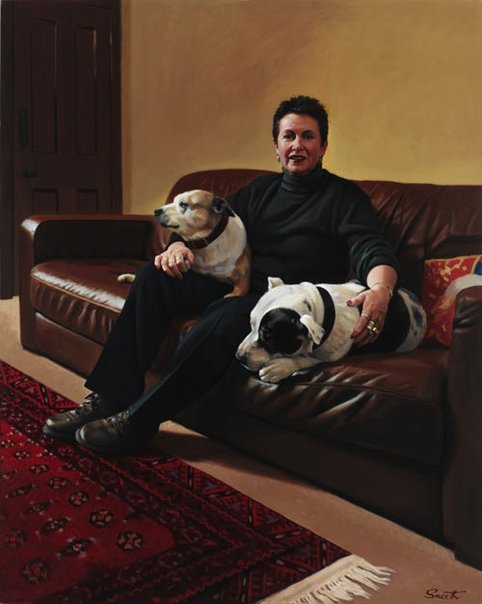 Peter Smeeth
Clover Moore with Sheba and Bruno
Medium

oil on canvas

Read label text

Peter Smeeth's portrait of Clover Moore, the lord mayor of Sydney, was painted for an exhibition featuring celebrities and their pets held by Portrait Artists Australia in the Arthouse Hotel in September 2005.

'I have been an admirer of Clover Moore for her independent views, her interest in environmental and social matters and her courage in standing up to the major political parties and powerful financial interests,' says Smeeth. 'She is her own person and a wonderful ambassador for Sydney.

'I wrote to her, care of Town Hall, explaining the exhibition and asking her to sit for the portrait and enclosed a CD with examples of my work. Clover accepted and agreed to a two-hour session for sketches and a photo shoot at her house as I wanted to create an image of her looking natural and relaxed at home. She was an accomplished sitter but the same cannot be said for Sheba and Bruno and it would have been much more difficult to paint this picture without the aid of the camera. The painting was completed in about 150 hours over a period of three weeks.'

After graduating from Sydney University with BA Dip Ed, Moore worked as an English/history teacher at Fort Street High School. She was elected to South Sydney Council in 1980–81 and to the Council of the City of Sydney 1981–87. She has been the independent member for the inner-Sydney electorate of Bligh since 1988 and was elected lord mayor of Sydney in 2004. She is married to architect Peter Moore with whom she has two adult children.

Born in Griffith, NSW, in 1949 and educated at Yanco Agricultural High School, Smeeth is a self-taught artist. He studied Medicine at Sydney University from 1966 to 1971 and has worked as a general practitioner in the Entrance for the past 32 years. He is an associate of the Royal Art Society of NSW, a member of Portrait Artists Australia and a member of the Australian Watercolour Institute. He was a finalist in the Doug Moran National Portrait Prize in 2004 and 2002. He was selected for the Salon des Refusés in 2004.