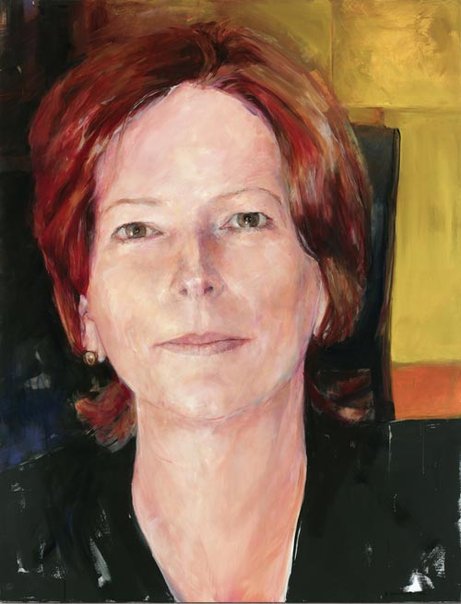 Kathleen Vafiadis
Julia
Medium

oil and acrylic on canvas

Read label text

Julia Gillard has been member for Lalor in Melbourne since 1998. She is the Labor Party's shadow minister for health as well as manager of Opposition Business. Kathleen Vafiadis met Gillard shortly after she became her local member. Vafiadis was fighting to save a local community arts space and Gillard complimented her on the stand she took, saying she'd make a great politician herself. They have since got to know each other fairly well.

Vafiadis has painted Gillard several times now. One of the portraits featured in a solo exhibition featuring prominent women in Vafiadis' local community. "I'm fascinated by women in power and have done several series of paintings on the subject," she says. "I find that my most successful portraits are of people I admire and that is certainly true of Julia. She's a tiny person but her intelligence is huge."

As Vafiadis has got to know Gillard better, she has seen the private person as well as the public persona. "One of the things I wanted to get across in the picture was the human side, the compassion, as well as the intelligence." Vafiadis spent a day at Gillard's office doing sketches and drawing and also took close-up photographs of her jewellery. During the sitting she focused intently on Gillard's features noting the way she moved her mouth, for example. "I feel like I've done a PhD on her face," she says.

Vafiadis has placed Gillard to the left of the canvas. From Gillard's perspective, however, she is sitting to the right. "If you know Julia's politics that is not the issue, it's just getting on with the job. So that was a little game I was playing in the portrait."

Born in Melbourne in 1950, Vafiadis studied at Prahran College of Advanced Education and has been exhibiting since 1971. Solo shows include Rigoletto at Fitzroy Gallery, Melbourne in 2005 and Mary Chirnside at Wyndham Cultural Centre in 2004. She has participated in various group exhibitions. She won the Wyndham Now Acquisitive Art Prize in 2000 and her work is held in several state and local council collections.