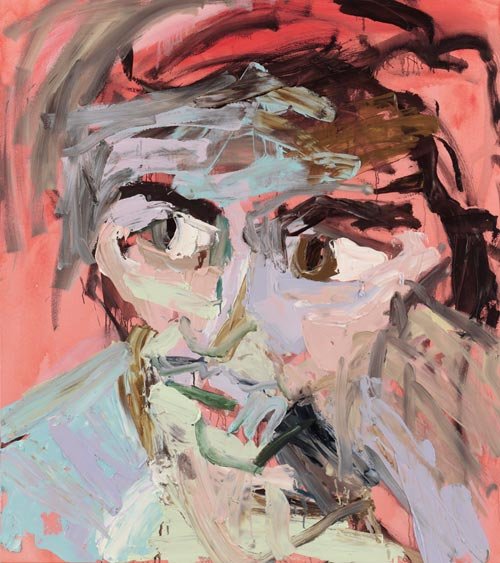 Craig Waddell
Portrait of JC
Medium

oil on canvas

Read label text

The subject of Craig Waddell's Portrait of JC is his wife Jessie Cacchillo, an artist, actor and the current face of Olay. It is one of a series of portraits Waddell has made of her.

Often Waddell paints his portraits over several studio sittings, the surface tension building with each vigorous application of paint. However, this particular portrait was executed in one sitting, which is perhaps why the work is so dynamic and full of energy. 'I usually apply paint, scrape it off, reapply it and rework the painting but with this particular portrait I had been painting and sketching Jessie for a long studio session and felt that I had captured what I set out to do in one go,' says Waddell.

Waddell and Cacchillo frequently work together and are currently collaborating on The Hybrid Project, which explores how humans manipulate and interact with the natural world. The artists work from a studio on a property in rural NSW and their animal-hybrids or 'mutants' grew out of their interest in recycling studio waste and reusing discarded farm equipment as art materials. By recycling a traditionally two-dimensional material and transforming it into a three-dimensional object, the artists (both painters) extend their painting into their sculptural work, and visa versa. In 2005, they were named joint winners of the Woollahra Small Sculpture Prize.

Born in Sydney in 1973, Waddell graduated with a Bachelor of Fine Art from the National Art School and a Master of Fine Art (Printmaking) at the Chiang Mai University, Thailand. He was a finalist in the 2004 Dobell Drawing Prize and in the 2005 Wynne Prize. His awards include the Pat Corrigan Travelling Scholarship for Painting in 1998, the 2005 Tattersalls Art Prize for Landscape, the 2004 Paddington Art Prize, the 2004 Norville Australian Landscape Prize and the 2001 Waverley Art Painting Prize in 2001.