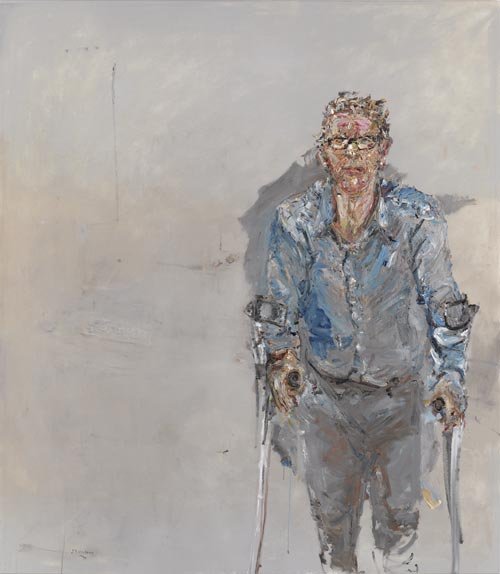 John R Walker
Martin Armiger
Medium

oil on polyester

Read label text

Martin Armiger has written the music for over 50 films, including the features Thank god he met Lizzie and Young Einstein (for which he won an AFI Best Music for Film Award), telemovies like The secret life of us, mini-series like Come in spinner and Bodysurfers, series like Police rescue and documentaries like Cane toads and The wonderful world of dogs.

For many years he played guitar for a living, touring and making records with the group The Sports. He is also a novelist, screenwriter and occasional journalist. He was president of the Australian Guild of Screen Composers for seven years and is currently head of screen composition at the Australian Film Television and Radio School.

Armiger spends his time between Sydney and Braidwood, where he and John R Walker met through a mutual friend. 'I'd gotten to know him over the last three years and he's a really fascinating, intelligent guy with an interesting, ironic face,' says Walker. 'I'm passionately fond of music in an amateur way and I remember Martin from his days with The Sports. Part of what drew me to doing a portrait of him was that he has a pretty interesting studio at Ballalaba, chock-full of computers and keyboards associated with his work as a composer and the view out over the paddocks. That's how the portrait started. I had him come to my studio to paint him. We did two full days on it but I didn't feel it had quite gelled and at some point I just scraped off all the paint. Martin isn't normally on crutches – he's just had a massive ankle reconstruction – and he was standing there in some discomfort staring in bewilderment as I scraped off the paint. I looked at him looking at the picture and I knew, "That's it!" I painted it in about two hours. It's a bit of an odd picture because the actual portrait is of Martin looking at the picture of himself coming into being. So it has something of the look of a self-portrait about it, which I like because it gives it a different quality.'

Born in Sydney in 1957, Walker lives and works in Braidwood, NSW. This is his fifth time as an Archibald finalist.