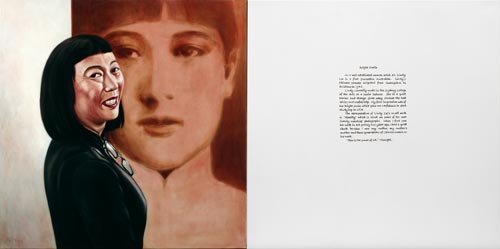 Bin Xie
Bright smile
Medium

oil on canvas

Read label text

The subject of Bin Xie's portrait is acclaimed artist and Art Gallery of New South Wales trustee Lindy Lee. Xie knew Lee's work but didn't meet the artist until early last year when she began studying for her masters degree at Sydney College of the Arts, where Lee teaches painting. Upon meeting her, Xie was immediately struck by how much her teacher resembled her mother. 'I have some family photographs from the 1940s and when I looked at Lindy's work it reminds me of my mother and grandmother,' says Xie. 'I didn't know much about Lindy but her work seems to me to express really true feelings from the heart. When I decided I wanted to paint her portrait it was a little bit scary asking her because she is famous but she was really nice and gave me confidence.'

The portrait comes from a series of ten paintings of Australian women with a Chinese background, which Xie has done for her masters.

Xie has only been painting for four years. Before coming to Australia, she worked in China as a mathematics teacher. 'I always loved art and my dream was to become an artist,' she says, 'but after I finished school my father said, "No, to become an artist in China is political and too dangerous", which destroyed my dream. But after I came to Australia, I realised I could do anything I wished.'

Born in China in 1957, Xie graduated with a Bachelor of Science in 1982 and a Master of Science in 1988 from Chongquing University, China. She moved to Australia in 1990 and now lives in Sydney. In 2004 she completed an Advanced Diploma in Fine Arts from Meadowbank TAFE, Sydney, and in 2005 finished a Master of Studio Art (Painting) at the Sydney College of the Arts, University of Sydney. She has had solo exhibitions at Eden Gardens Gallery, North Ryde in 2006, and at the Chinese Cultural Centre, Chatswood, and the Sydney Antique Centre, Surry Hills, in 2005. She has been exhibiting in group shows since 2002.