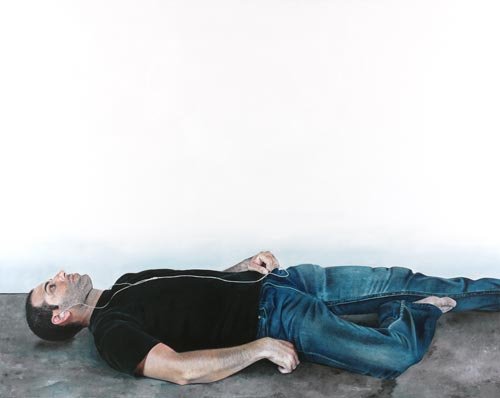 Michael Zavros
Michael Zavros can't paint / the wind is whistling through the house
Medium

oil on canvas

Read label text

Michael Zavros can't paint/the wind is whistling through the house is a self-portrait of the artist lying on his studio floor listening to his iPod, which is playing Kate Bush's song King of the mountain.

Zavros was an Archibald finalist in 2004 and 2005. 'I wasn't really sure that I could enter the Archie again after a very big year with a lot of shows and the birth of my daughter Phoebe, and hadn't given a subject a great deal of thought,' he says.

'I was also leaving around Christmas time to embark on an Australia Council residency in Barcelona with the family so was furiously tying up loose ends and getting organised. At this time I was listening to Kate Bush's new album Aerial – her first in 12 years. I read an article about the enormous pressure she'd undergone to produce what became for her a labour of love. In her song King of the mountain she plays with this idea of pressure and the very nature of artmaking being a tenuous, often fraught and fragile process. It is this creative impasse and sense of pressure that I wanted to express as the subject for my Archibald portrait. I often lie on my studio floor when I find myself in this state. In naming the work Michael Zavros can't paint, I am both playfully referencing this "painters block" but also the expectation to create a strong painting. Kate sings the wind is whistling through the house – a metaphor for a broken silence and a writer's block. When I wear my earphones I feel disconnected from those around me and it is in this more private space that I always paint.'

Born in Brisbane in 1974, Zavros graduated from Queensland College of Art with a Bachelor of Visual Art in 1996. His awards include the Jacaranda Acquisitive Drawing Award in 2002, the Primavera MCA Collex Award in 2004 and the 2005 Robert Jacks Drawing Prize.