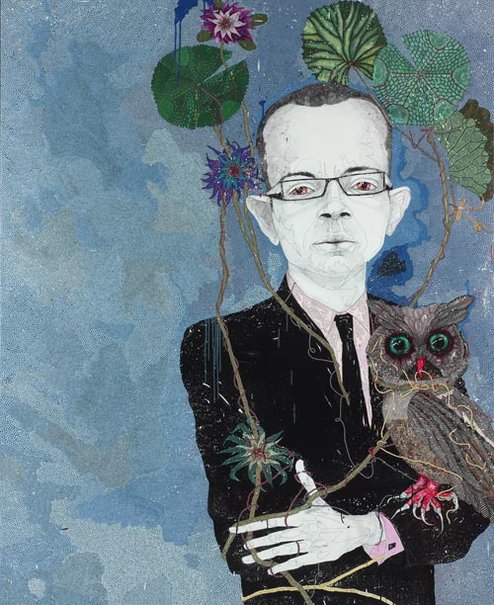 Del Kathryn Barton
Vasili Kaliman and contained familiar together within the Dreaming
Medium

acrylic, gouache, watercolour and pen on polyester canvas

Read label text

Although much of Del Kathryn Barton's figurative work makes references to herself, she has not had a great affinity with portraiture. 'However I suddenly felt ready for the set of challenges that portraiture imposes,' she says.

Since much of the content of her work is female, she wanted to attempt a male subject, and one with whom she had a personal connection. 'I think I would find making a portrait of someone I don't know a slightly more superficial endeavour,' she says. Vasili Kaliman, the owner and director of Kaliman Gallery, is Barton's Sydney art dealer.

Known for its vibrant, figurative imagery, Barton's work combines traditional painting techniques with contemporary design and illustrative styles. Characteristic of her work is the way she juxtaposes figures and animals, as symbols, in an attempt to explore the complex relationship between humankind and nature.

For Kaliman, she chose the owl, 'poised as if custodian of more hidden aspects of the psyche'. The stylised decorative background relates to Kaliman's interest in Aboriginal art. 'He deals in it, collects it, and regularly visits Aboriginal communities,' says Barton. 'Aboriginal cultures speak about a connectedness to place. It's harder for Australians per se to find a language system that speaks about a spiritual connection with the land.' This portrait is an expression of that connection.

Born in Sydney in 1972, Barton was a teacher at the University of NSW's College of Fine Arts until 2003. She has had regular solo exhibitions since 2001 in Sydney and Melbourne and has participated in group shows including National works on paper, the Helen Lempiere Travelling Art Scholarship, the Blake Prize for Religious Art and the Sulman Prize. This is her first time in the Archibald Prize.