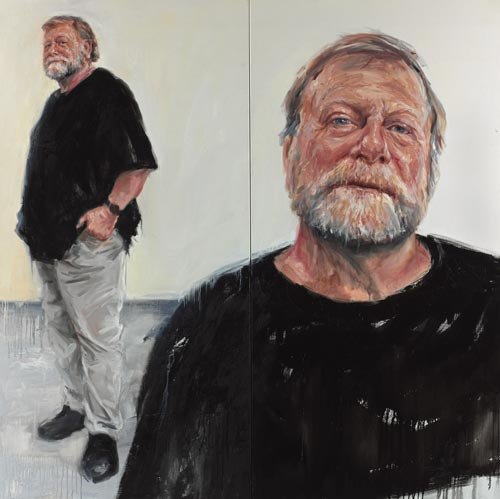 Danelle Bergstrom
Winner: Packing Room Prize 2007
Take two - Jack Thompson
Medium

oil on linen

Read label text

Jack Thompson's acting career spans more than 40 years. He has appeared in over 70 films, including the Australian classics Breaker Morant and Sunday too far away, as well as in numerous telemovies and series. A true believer in the importance of a vital local film industry, he received an Order of Australia for his services to the Australian film industry. He is a committed environmentalist, member of the National Gallery of Australia Foundation and Australian Good Will Ambassador for the United Nations High Commission for Refugees.

'During our initial session together, observing his expressions, I thought I was in for a challenge – so many faces here!' says Bergstrom. 'His thoughts and emotions, very much on the surface, were demonstratively displayed. He is open, down-to-earth, unpretentious, a hopeless romantic and passionate about his interests – not to mention a cheeky old bastard! As an adopted child, he has recently and enthusiastically engaged in tracing his true heritage and has discovered images of his grandfather and his great grandfather. The likeness to his forebears is amazing and his discovery of his natural parentage was of great interest to me.'

Bergstrom worked with Thompson in her studio on many occasions. He enchanted her by reading some of his adoptive father's, John Thompson's, passionate poetry. Over a relatively short but concentrated period of time, Bergstrom did many drawings and paintings of him. Disregarding 'the usual neurotic, frustrating times associated with painting', she found working with the quintessentially Australian Thompson 'a sheer delight and a most memorable experience'. Bergstrom often uses more than one canvas in her portraits to create a time sequence or capture different aspects of her subject.

Born in Sydney in 1957, Bergstrom has exhibited regularly since 1980 and has been represented in the Portia Geach Memorial Award, the Doug Moran Portrait Prize and the Kedumba Drawing Prize as well as the Archibald Prize. She also won the 1995 Packing Room Prize for her portrait of Jon English (although, in that year, her work was not selected by the Gallery Trustees as a finalist for the Archibald).