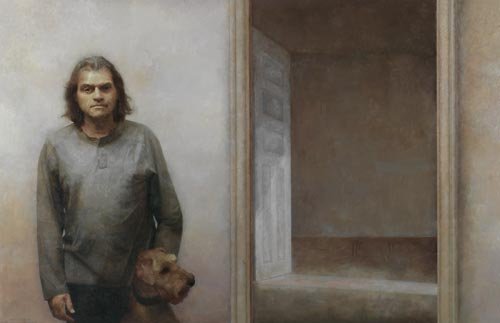 Adam Chang
Brian, the dog and the doorway
Medium

oil on canvas

Read label text

Brian Sherman was awarded the Order of Australia in 2004 for services to the community as a philanthropist and benefactor to a range of arts, education and sporting organisations, and to business and commerce. He is president of the Board of Trustees of the Australian Museum, a director of Network Ten, chairman of Sonic Communications and Pulse International, director of the family trust that owns Sherman Galleries, and is also co-director and patron of Voiceless, a non-profit fund for animals founded by the Sherman family in 2004. In 2006 he was awarded the Ernst & Young Entrepreneur of the Year (eastern region).
In his portrait Brian, the dog and the doorway, Chang aims to depict the closeness that can exist between a human and his dog. 'In my works, the presence of a door or window always carries profound meaning', says Chang, who had a portrait in the 2005 Archibald Prize of Dr Gene Sherman (Brian's wife) standing next to a door. 'The ancient Chinese had a saying "one door is one world, one door is one life". Beyond the door are two different worlds (choice and destiny, time future and time past). As a philanthropist and benefactor Brian reaches out to others, including all sentient beings. His kindness and his nobility of spirit are portrayed here.'
Chang (Hong Jun Zhang) was born in Shanghai in 1960. He graduated from Shanghai University Fine Arts Academy in 1993 but began exhibiting in the early 1980s. In 1989, he was selected to join the Art Association of Shanghai, becoming the youngest member in the organisation's history. In 1992 he was awarded the Shanghai Art Critic Prize. He moved to Australia in 1997 where he has twice been a finalist in the Doug Moran National Portrait Prize. In 2001 he was one of 24 Australian artists represented in Portraits 2001: an Australian odyssey, which toured nationally. His portrait in that exhibition was purchased by the Tweed River Gallery.