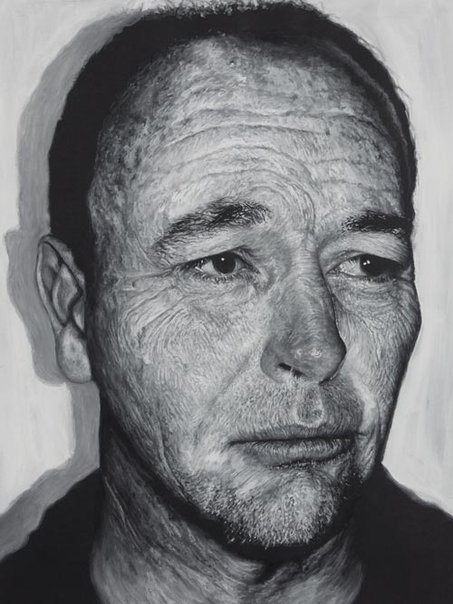 Sam Cranstoun
Peter
Medium

acrylic and gouache on paper

Read label text

Sam Cranstoun's subject is his father Peter, an ophthalmologist who spends much of his time helping young children with visual disabilities. 'He is someone I greatly admire', says the artist. 'Not only has he contributed an amazing amount to the ophthalmic community in Queensland but he has been a fantastic father to my six siblings and me.'
This painting is the fourth in a series of black-and-white portraits in white gouache and acrylic. 'Because most of my work until recently has been drawings, I found the transition into painting easier on paper', says Cranstoun. 'Halfway through last year I found a photo that I thought I could use for one of my pencil works but I felt that with the heavy contrast, and the dark, black quality of it, it would look more striking as a white on black image, rather than black on white. So I used white pencil on black card to bring out the white parts of the face. I then tried to produce the same effect with paints, using gouache and acrylic. The first few portraits in this style definitely gave the desired effect, though there were small things I didn't like, mainly the lack of minute detailing that I was after. After these first attempts, improving the technique along the way, I finally completed Peter, a work that I was happy with, both in regards to the style and the resemblance.'
A noticeable aspect of Cranstoun's work is, as he says, his 'warts and all approach … In no way do I try and smooth out the surfaces of the skin, reduce the wrinkles or erase the blemishes. Finding the character in someone's face is what is most appealing to me about portraiture'.
Born in Brisbane in 1987, Cranstoun left school in 2004 and spent a gap year in France, where he saw many different art collections and took part in a number of art classes. Returning to Australia, he began a Bachelor of Animation degree but after six months decided it was not for him and spent the rest of 2006 painting. He commences a Bachelor of Fine Arts this year at Queensland University of Technology.