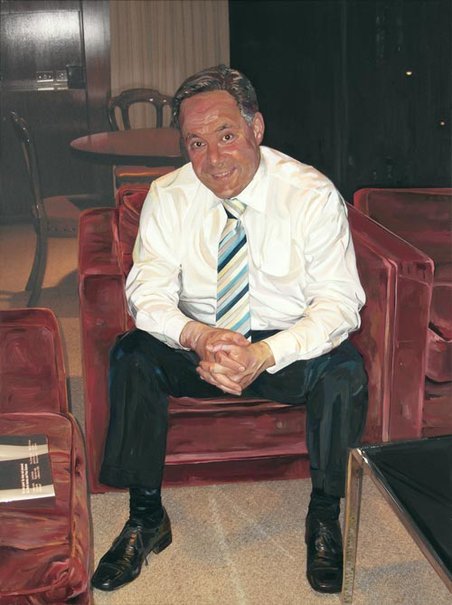 Carmen Di Napoli
Go for it
Medium

mixed media

Read label text

NSW's premier Morris Iemma was born in Sydney into an Italian family. Thus Carmen Di Napoli shares a similar cultural background with her subject – one reason why she was keen to paint his portrait. 'Both our parents were migrants from southern Italy and had that determination to work hard and make a good life in a beautiful new country', she says. 'We were brought up with similar attitudes and values. To me Morris Iemma represents that spirit of hard work, of getting on with the job, of making dreams come true.'
'I was impressed by the way he came across during the World Cup when Australia played Italy. He was very much the Australian in the Italian neighbourhood. His heart was with Australia though his roots were in Italy. I thought he dealt with the situation in an inspiring manner – a good example for young people.'
Although set in his office at Parliament House, Di Napoli's portrait aims to portray the man rather than the politician. 'To me he comes across as a very strong, determined person but also as a man at peace with himself', she says. 'No matter how busy he is, he's always calm and collected. When I met him we talked for ages and I took lots of photos of him but this pose with him leaning forward, eyes smiling, suggested him looking forward, into the future, and listening.'
A sculptor and mixed media artist, Di Napoli wanted to include a reference to technology as a symbol of the fast-paced, ever-changing world Iemma operates in. Her fusion of an oil painting technique with a digital image is an attempt to document the personal and professional worlds Iemma inhabits.
Born in China to Italian parents, Di Napoli spent a brief time in Italy before coming to Australia in 1956, aged nine. She has a Diploma of Art Education from City Art Institute, studied Fine Arts and Italian at Sydney University and art gallery administration at the University of NSW in 1990. Scholarships took her to Japan in 1976 and to Florence in 1990 to study restoration. She now teaches at Co.As.It (Italian Community Assistance), having previously taught visual arts to secondary level students and adults. She was a finalist in the 1994 Portia Geach Memorial Award. This is her first time as a finalist in the Archibald Prize.