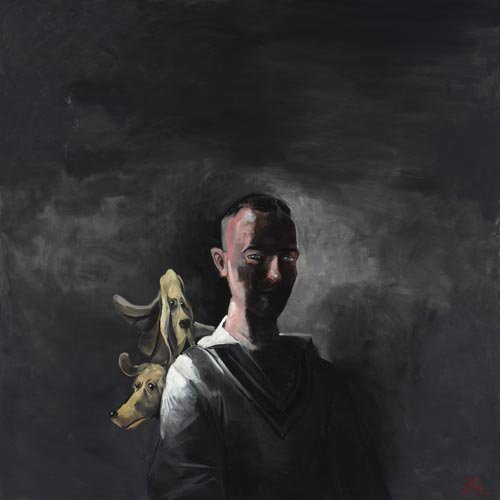 McLean Edwards
Martin Browne
Medium

oil on canvas

Read label text

Martin Browne is McLean Edwards' art dealer. 'We spend a lot of time together and we get on really well', says Edwards.
'Martin is a paradox, as anyone who knows him is aware. He has an elusive quality. With Martin there's a sublime conjunction of the objective and the subjective and I've tried to nail that in this painting – though he remains as elusive always. I think I've caught him in a reflective mood. The dogs are his. He talks about them all the time. So on another level it's just a painting of a bloke with his dogs.'
Edwards has painted Browne numerous times in various guises and had a portrait of him in the 2004 Archibald Prize. Born in Darwin in 1972, Edwards had his first solo exhibition in Canberra in 1989 while still in year 12. Known for his humorous take on figurative painting and bold use of colour, he has had over 20 solo shows and been part of numerous group shows, including the Sulman Prize in 2001. He was a finalist in last year's Archibald Prize with a painting of Cate Blanchett and family.