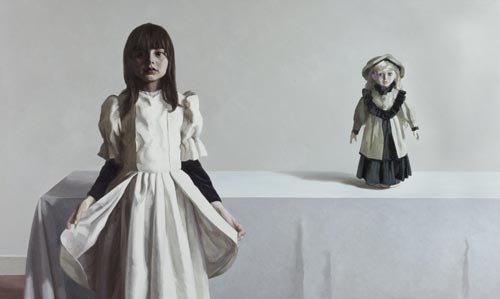 Zai Kuang
Sarah and the doll
Medium

oil on canvas

Read label text

Most of Zia Kuang's paintings are about domestic life. This portrait is one of a series about children and their toys. 'My aim is to explore spaces in a domestic environment', he says. 'I want to create a tranquil atmosphere in my painting. I like to draw and paint figures and objects that I know well because they are familiar to me and I have a range of feelings for them.'
'Sarah is the daughter of a friend. She is very quiet so I felt that her character suited the tranquil atmosphere of my work. I really want people to feel this space and to be in the space with Sarah. I love the subject of children and their toys. The relationship between them is one of harmony. I can't imagine what a child's life would be like without toys.'
Born in China in 1962, Kuang studied art in Beijing and taught at Beijing University for ten years before coming to Australia in 1998. After completing a masters degree in 2002, he began painting full-time. He has since had five solo exhibitions. In 2003 he won best oil painting in St Kevin's Art Show. Last year, he was a finalist in the R & M McGivern Art Prize, the Redland Art Awards and the Lexus Mortimore Art Prize. He has been selected as a finalist in this year's Doug Moran National Portrait Prize. This is his first time in the Archibald Prize.