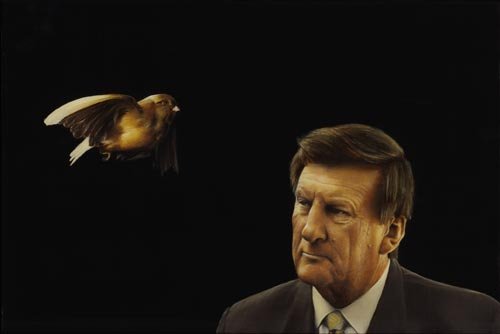 Sam Leach
A bird flies past Jeff Kennett
Medium

oil and resin on wood

Read label text

Sam Leach met former Victorian premier Jeff Kennett last year at the opening of the prestigious Metro5 Art Award, which Leach won. 'Later he bought a couple
of my paintings so I thought he would be sympathetic to the approach I wanted to take to the work', says Leach.
Leach's work reflects his interest in 17th-century Dutch painting. 'I have been looking carefully at the art of that period to learn about their approach to constructing a painting in terms of content, composition and technique', he says. 'The Netherlands in the 17th century saw the emergence of the corporation and the creation of the sort of political economy we now live in. I think that there are significant parallels in the aesthetics of that period and our own and that is what I am trying to highlight in my work.'
This portrait sits within Leach's body of work in the way it references techniques and motifs of Dutch art. 'I have treated the bird with the same attention and care as the human figure. They each have an equal amount of pictorial space and the work is composed so that there is a dynamic balance between them. The work is small in scale with quite labour-intensive detailing to encourage an intimate and individual encounter with the portrait. The whole painting is coated in resin, which forms a reflective barrier. This seals the painting in so that it is completely isolated from the world around it. At the same time, the reflection draws the viewer further into the pictorial space.'
Born in Adelaide in 1973 and now based in Melbourne, Leach is currently undertaking a Master of Arts degree. In 2006 he won the Fletcher Jones Contemporary Art Prize, as well as the Metro5 Art Award, had a solo show at Michael Carr Gallery in Sydney and was listed as one of Australia's 50 most collectable artists in the January issue of Art Collector. He has exhibited regularly in group shows since 2002 and had two solo exhibitions in Melbourne in 2005.