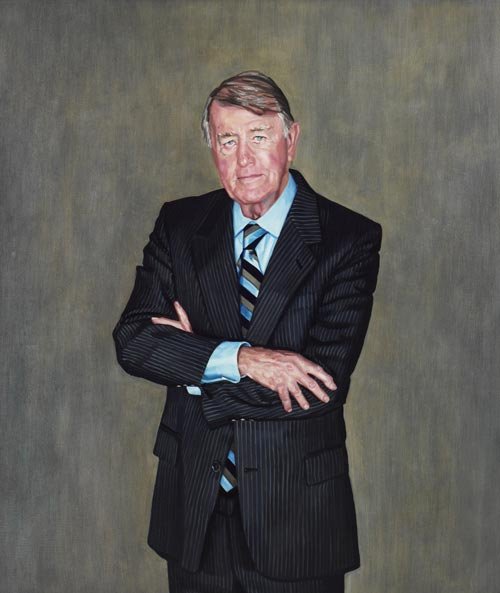 Mathew Lynn
Neville Wran
Medium

oil on linen

Read label text

Mathew Lynn was commissioned to paint this portrait by the Victor Chang Cardiac Research Institute, of which Neville Wran is chairman.
Premier of NSW from 1976 until 1986, Wran is a Queen's Counsel. He is currently chairman of Wran Partners corporate advisers and director of a number of companies. He is also a governor of the Australia-Israel Chamber of Commerce, president of the Trans-Tasman Business Circle, honorary trustee of the Lionel Murphy Foundation and maintains a broad range of community interests.
Lynn had several meetings with Wran. This included two formal sittings although they met on three or four other occasions, which they just spent chatting. 'He's a wonderful subject and very interesting to me as a person so he wasn't hard to paint', says Lynn. 'He's shy but also straightforward and eloquent. I wanted to portray that directness. He's a strong person though that is balanced by his self-deprecation. There's also a little sadness there. It's a strange combination, which I have tried to capture.'
Born in Sydney in 1963, Lynn has exhibited in the Archibald Prize on 10 previous occasions. In 1997 he was runner-up and voted the People's Choice for his portrait of publisher Jeanne Ryckmans. He was also runner-up in 1998 with his portrait of artist Guan Wei. He has been a finalist in the Wynne and Sulman prizes.