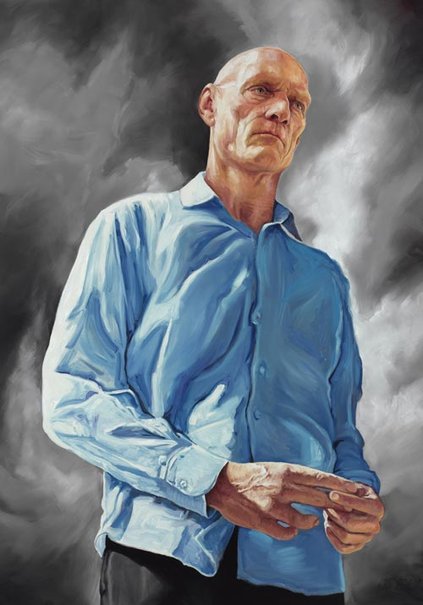 Michael Mucci
The power and the passion
Medium

oil on board

Read label text

Michael Mucci won last year's Packing Room Prize for his portrait of builder and television personality Scott Cam. Peter Garrett is the Labor member for Kingsford Smith and the shadow minister for climate change, environment, heritage and the arts. He was vocalist, co-lyricist and dynamic front-man of Australian band Midnight Oil for 26 years. The Oils were renowned for their independent stance and active support of a range of contemporary issues including homeless youth, the rights of Australia's Indigenous people, and protection of the environment. Garrett served two terms as president of the Australian Conservation Foundation. He received the Australian Humanitarian Foundation Award (environment category) in 2000 and the Order of Australia in 2003 for his contribution to the environment and the music industry.
'I've admired him since I was in my teens', says Mucci. 'I like people who are prepared to stand up for what they believe in and he does it in a loving and passionate way. He's not just a rebel; he's fighting for a good cause. He's also got a wonderful head. It's so chiselled, I knew he'd be an excellent subject.'
Mucci gave the portrait a stormy-looking background to suggest 'that something is brewing, that he's not done yet, though I wanted to keep it ambiguous. The way I've composed the painting it's almost like he has an effect on the background … The creases in his shirt connect with movement in the background so there's the sense that he will make waves and have an effect on the environment'.
Born in Italy in 1962, Mucci came to Australia in 1968. He is currently working as a political illustrator and cartoonist for the Sydney Morning Herald. He has had several solo shows since 1988 and was a finalist in the 1989 Blake Religious Art Prize and the 1994 Doug Moran Portrait Prize. In 2000, he won an ARIA Award for Cover Art for Powderfinger's Internationalist CD.