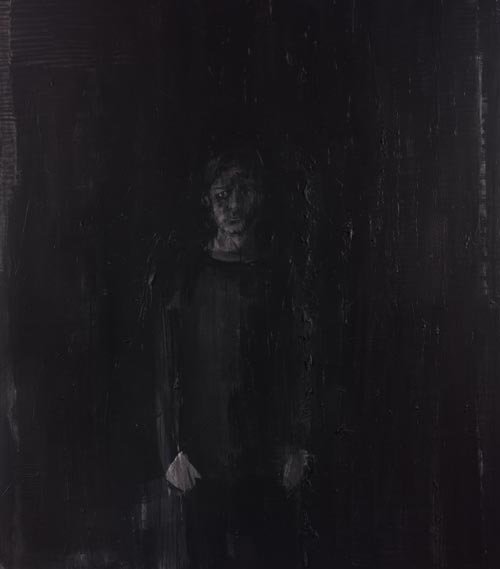 Angus Nivison
Myself
Medium

acrylic on canvas

Read label text

Known primarily as an abstract artist, Angus Nivison likes to do one portrait a year, with the Archibald Prize as an incentive. Of late, this has tended to be a self-portrait. 'Where I live it's a big ask for someone to come and sit for me as the studio is miles from anywhere', says Nivison, who is based in Walcha, NSW. 'I don't like working from photographs and each portrait takes a couple of months because I'm interested in making a good painting, as well as a good likeness.'
Myself is a mirror image. Like many of Nivison's recent paintings, it is very dark. The artist looms out of the painting – but only just – and there is the feeling that he might sink back into the darkness at any moment. He seems apprehensive, bewildered, sad. 'It's a reflection of where we are at the moment', says Nivison. 'It's not trying to talk about any one thing in particular, it's more of a general apprehension. There are a fair few things not right with the world but they are such big issues that I find myself wondering if I can do anything about them. It all feels horribly out of my control.'
Strangely, it's only when you get close to the painting that the likeness becomes obvious. 'From a distance it looks vaguely familiar; up close you can see it's me', says the artist.
Born in Walcha, NSW, in 1953, Nivison has exhibited regularly in group exhibitions since 1974 and solo show since 1982. In 2002 he won both the Wynne Prize (in which he has been represented five times) and the Muswellbrook Art Prize. He has also won the Kedumba Drawing Prize. This is his third time in the Archibald Prize. He has also been represented three times in the Archibald Salon des Refusés. His work is held in numerous private and public collections including the AGNSW.