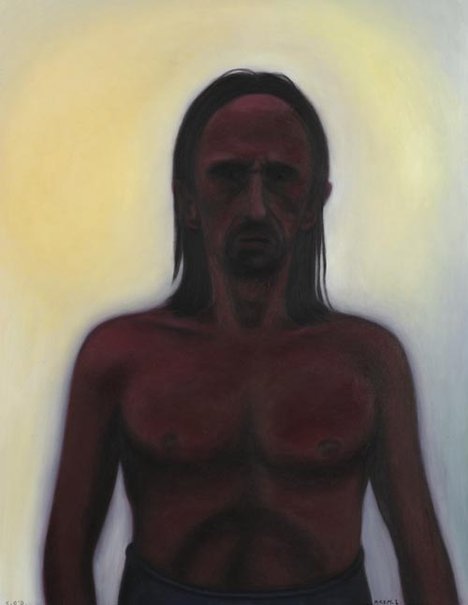 Chris (aka Reg Mombassa) O'Doherty
Self-portrait with high pants
Medium

oil on canvas

Read label text

Chris O'Doherty is better known to Australians as Reg Mombassa, former member of Australian rock band Mental as Anything and leading Mambo designer. His irreverent images for the Mambo label, including the Vomiting Chicken, Australian Jesus and Space Monster, have become a vital part of contemporary Australian culture and featured as blow-up inflatable figures at the closing ceremony of the 2000 Sydney Olympic Games. He is also known for his landscapes and serene paintings of unpretentious houses. In fact, it was while he was studying at the National Art School that he formed Mental as Anything with fellow art students.

'I don't really do portraits of others but I have been painting self-portraits since I was 15 as a painting exercise – and also because I'm available as a subject', says O'Doherty. 'I am generally frightened of other people and being shut up in a room with a celebrity and having to entertain them with intelligent conversation while painting a portrait is a daunting prospect.'

'With this picture I was wondering how (the late) Bon Scott from AC/DC would have painted himself if he was a painter, hence the shirtless, slightly toey pose and the high pants. I wanted it to be backlit so there is not much light on the figure. I got my wife to take a couple of photos of me so I could play around with the lighting.'

Born in Auckland, New Zealand in 1951, O'Doherty came to Australia with his family in 1969. He continues to design for Mambo and has a thriving career as a graphic designer. He left the Mentals in 2000 to concentrate on his art, although he continues to make music with Dog Trumpet, the group he formed with his brother Peter O'Doherty in 1991. He held his first solo exhibition at Watters Gallery in 1975. Earlier this year the first major survey of his work was held at Sydney's SH Ervin Gallery. This is his first time in the Archibald Prize.