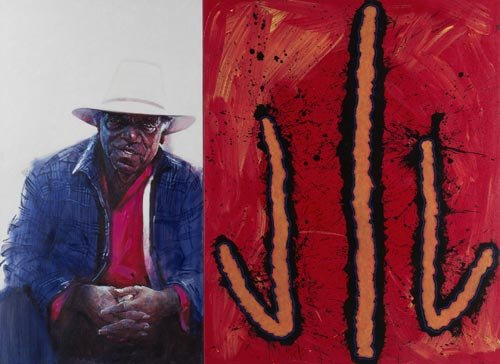 David Paulson, Michael Jagamara Nelson
Michael Nelson Jagamara and totem
Medium

acrylic on canvas

Read label text

David Paulson and Michael Nelson Jagamara know each other through Fire-Works Gallery in Brisbane, where they both exhibit. Jagamara is a senior Warlpiri artist from Papunya, Central Australia. He won the inaugural National Aboriginal and Torres Strait Islander Art Award (now known as the Telstra Award) in 1984, the Gold Coast Art Prize in 2002 and the Tattersalls Contemporary Art Prize in 2006.

This painting is a joint work. 'One of Michael's important ceremonial motifs is the image of Kangaroo Dreaming and his painting of the kangaroo paw print can be considered a self-portrait,' says Paulson. 'My painting of Michael is a white fella artist's view of a complex and talented identity, a creator of powerful, personal imagery.'

While Jagamara painted the kangaroo paw totem, Paulson included the blue and gold paint in order to relate it to his portrait of the artist. He asked Jagamara if he would take his hat off, but Jagamara refused. 'I suspect he's got a few tribal scars under there', says Paulson with a laugh. 'He's a very gentle man. His strength comes from his totem.'

Paulson lives and works in Maleny, 100km north of Brisbane. He was represented in the 6th Biennale of Sydney and in many exhibitions at the Queensland Art Gallery. In 2004 he was an Archibald finalist with a portrait of Aboriginal artist Richard Bell.