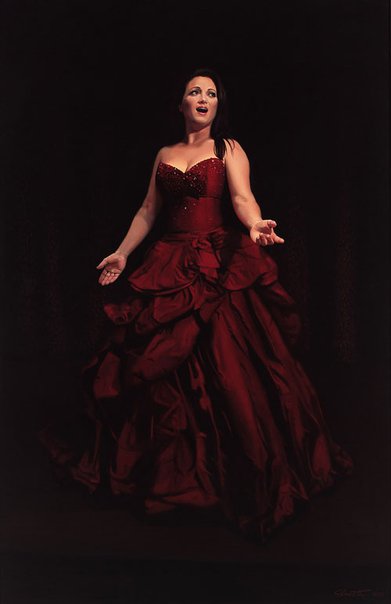 Peter Smeeth
The young diva – a portrait of Amelia Farrugia
Medium

oil on canvas

Read label text

A bright young star of Australian opera, soprano Amelia Farrugia has won numerous awards and enjoyed great success on both the operatic and concert stage in Australia and internationally. Last year she performed with Opera Australia in productions of Die Fledermaus, L'elisir d'amore, Batavia and The magic flute in which she played the Queen of the Night. She also released a solo CD, Joie de vivre.

'When viewing portraits and photographs of great singers, actors, kings, queens and other historical figures, I often wonder what they would sound like', says Peter Smeeth. 'With poets, actors and singers in particular, the voice plays a major role in defining who they are. For some, it is the very essence of their being.'

'In painting any subject, but especially a portrait, I try to make the painting appear three-dimensional and alive so that the viewer feels there is actually a person in front of them.' For this portrait, Smeeth installed a CD player and speakers into the back of the canvas so that viewers can hear Farrugia singing tracks from Joie de vivre; it is 'a sound portrait as well as a visual one'.

Born in Griffith, NSW, in 1949, has worked as a GP in The Entrance since 1974. He was a finalist in last year's Archibald Prize with a portrait of Clover Moore, and in the Doug Moran National Portrait Prize in 2002 and 2004, the Archibald Salon des Refusés in 2004, the Shirley Hannan National Portrait Award in 2005 and 2006 (People's Choice Winner) and Art on The Rocks 2005 and 2006 (People's Choice Winner). He is a fellow of the Royal Art Society of NSW, a member of Portrait Artists Australia and a member of the Australian Watercolour Institute.