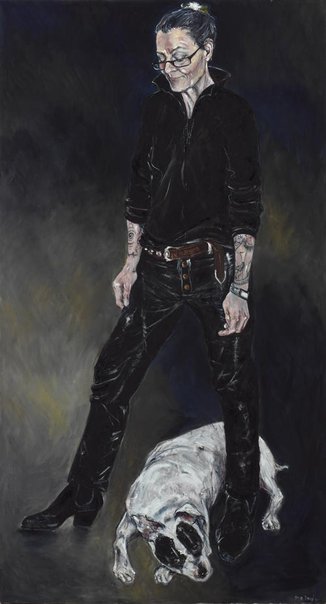 Sue Taylor
eX and reg
Medium

oil on canvas

Read label text

An artist whose work includes drawing, painting, photography and occasionally performance and installation art, eX de Medici is also a celebrated tattooist. She currently has work in the 5th Asia-Pacific Triennial of Contemporary Art in Brisbane and was recently included in 2006 Contemporary commonwealth at the National Gallery of Victoria.
'I've known her by sight for a long time', says Sue Taylor. 'A few years ago I went to a talk she gave and thought then I'd love to paint her one day. I eventually approached her last year. She came to my studio in the country four times and we did a lot of gossiping, as well as painting. We're both ex convent girls and we went to the same art school, though at different times. eX is a very committed artist and she draws wonderfully. Years ago I missed out on buying one of her drawings. Someone from the National Gallery of Australia just beat me to it!'
On one occasion, de Medici arrived at Taylor's gallery with a white gardenia in her hair. 'I had to include it in the painting', says Taylor. 'She had visited her elderly parents for breakfast on the way to my studio and her mother had popped it into her hair as she left.' Taylor decided on a full-length, life-size portrait in order to capture 'the way she stands. I knew I wanted all of eX. Those are her favourite boots, which she's had for years and I also wanted to show as many of her tattoos as were visible under the black top she wore. I wanted to paint her dog Reggie as he lay at her feet, now and then looking up at me.'
Sue Taylor lives in country NSW, near Canberra. Born in the United Kingdom, she went to art school there at age 16. After moving to Australia continued her art studies in Canberra. She teaches art at the Canberra School of Art, the National Portrait Gallery and the Canberra Museum & Gallery. She is a court artist for ABC television. A finalist in the 2001 Dobell Drawing Prize and the 2006 Portia Geach Memorial Award, she won the Walkom-Manning Art Prize for drawing in 2001.