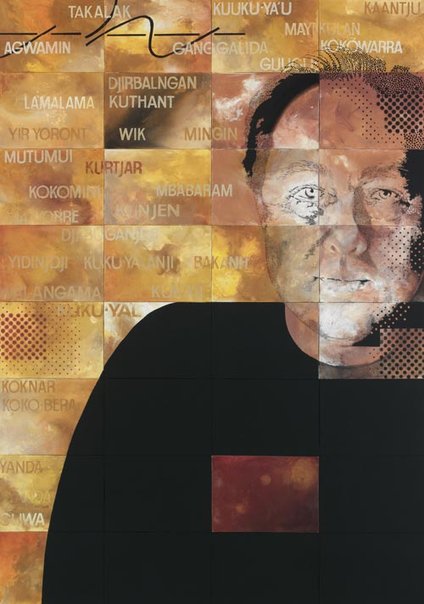 Ian Waldron
Imants Tillers
Medium

acrylic on canvas boards

Read label text

Imants Tillers is an artist, writer, curator and Art Gallery of NSW trustee. Well-known for making paintings composed of a grid of smaller, numbered canvases, he is considered a quintessentially postmodern artist in his use of appropriation and quotation. Since 1973 he has had numerous solo exhibitions in Australia, Europe and the United States and in 1986 he represented Australia at the Venice Biennale. Last year the National Gallery of Australia curated the first major survey of his paintings, entitled One world, many visions.

Ian Waldron first encountered Tillers' work at university around ten years ago and says he took inspiration from it. They met when they both exhibited at the same exhibition in Brisbane and again when Waldron was hung in last year's Wynne Prize. When he bumped into Tillers at his recent survey show in Canberra, Waldron asked if he would sit for a portrait.
'Because I'm an Aboriginal artist, I used that kind of map in my work a long time ago and I've also used words in my paintings', says Waldron. 'Imants was doing a lot of appropriation based on that and so I thought I'd turn that around and appropriate what he did in that huge work of his, Terra nullius. The portrait also includes my country, Kurtjar Country. You can see it in the painting in a different colour to the rest so that is a reference to my place.'

Born in 1950, Waldron comes from Delta Downs in the Gulf of Carpentaria. He won the National Aboriginal and Torres Strait Islander (Telstra) Art Award (Open painting) in 1995 and has since been a finalist eight times. He was selected for the Telstra NATSIAA touring exhibition Celebrating 20 years in 2000. Waldron was a finalist in the 2006 Wynne Prize, the 1996 Alice Prize and the 1995 Dobell Drawing Prize.