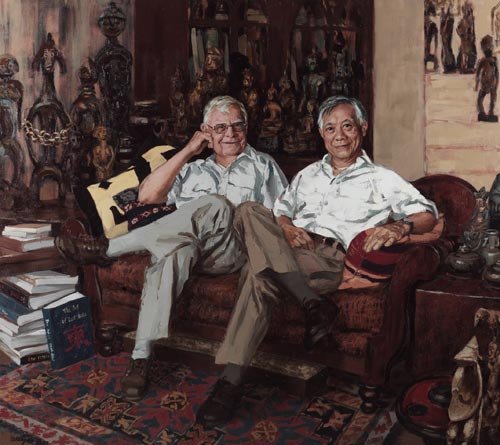 Xu Wang
John Yu and George Soutter
Medium

oil on canvas

Read label text

John Yu is a distinguished paediatric doctor. A former chancellor of the University of NSW, he was chief executive officer of the Royal Alexandra Hospital for Children during its relocation to Westmead. He was appointed a Member of the Order of Australia in 1989, a Companion of the Order in 2001 and was named Australian of the Year in 1996.

Xu Wang's portrait shows Yu with his partner George Soutter, a paediatrician and printmaker. Both are art collectors with a particular interest in Asian art. 'John left Nanking in China when he was three years old with his mother and sister just before the city fell to the Japanese during World War II', says Wang. 'As a Chinese migrant myself, we share a similar cultural background, though I arrived in Australia much later. It must have been very difficult for Chinese migrants when John arrived here but he has made an extraordinary contribution to Australian society. I see him as a good example for migrants.'

'When John was CEO at the Children's Hospital he worked with great passion to make the hospital a place of colours, music, art works and gardens. John made his idea come true – it is now a hospital that not only treats disease but cares for the children's hearts and souls as well as for their parents.'

Wang pictures Yu and Soutter at home surrounded by works from their collection. 'There are sculptures and paintings all over the house', says Wang. 'George is also an expert on rugs. The carpet on the floor is one of their favourites – though I have had to tone down the colours for my painting.'

Born in China in 1949, Wang arrived in Australia in 1989. Primarily a figurative and landscape artist, he was previously in the Archibald Prize in 2005 and Sulman Prize in 2006.