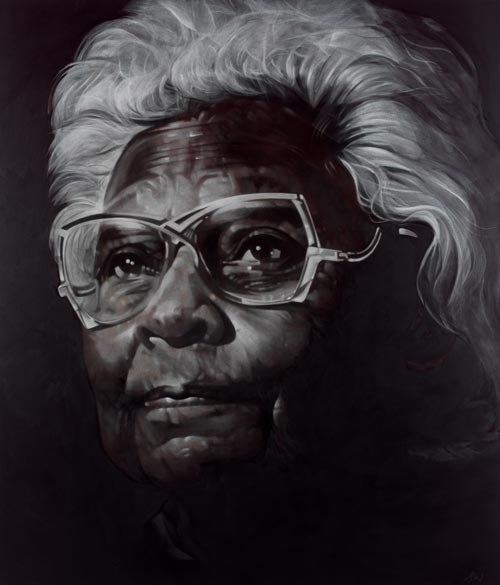 Greg Warburton
Faith Bandler
Medium

acrylic, pastel and charcoal on canvas

Read label text

Faith Bandler is one of Australia's most respected citizens and human rights activists. 'I felt very privileged when Faith allowed me into her home on several occasions, to do the preparatory work for this large canvas', says Greg Warburton. 'I hadn't met Faith before, though we are both residents of Turramurra in Sydney's north. I would see her from time to time in the neighbourhood and, knowing something of her history, I often thought she would be a wonderful subject to paint.'
Bandler turns 88 this year. Her father was a South Sea Islander who was kidnapped and enslaved to work in Mackay's sugar plantations in the 1890s. Her leadership and influence were crucial to the success of the 1967 referendum on citizenship rights for Indigenous Australians. This year marks the 40th anniversary of that historic campaign. She was a founding member of the Women's Electoral Lobby and the Australian Republican Movement. She has received many honours in recognition of her contribution to civil and human rights, including a Sydney Peace Foundation award presented by one of her heroes, Nelson Mandela. In his portrait Warburton has attempted to impart a sense of Bandler's spirit and stamina.
Born in Sydney in 1952, Warburton received an Australia Council Grant in 1980 to study in New York and Toronto. Since 1975 he has had solo exhibitions in Sydney and participated in numerous group exhibitions. This is his sixth time in the Archibald Prize. He has been hung in the Salon des Refusés, Wynne, Sulman, Dobell and Blake prizes. He has won many awards including The Blake Viewer's Choice and the Hunters Hill Portrait Prize twice. His work is represented in public and private collections in Australia and overseas.